Adam Millstein, violin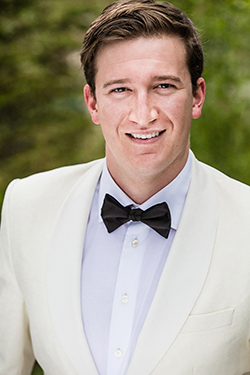 Violinist Adam Millstein has dreamed of playing Carmina burana from the moment he first heard the piece. Today, that dream comes true as he performs this electrifying work for the first time.
"Carmina burana is something that I've heard for over a decade, and it's such an epic piece of music," he says. "I've just always wanted to play it, and I'm very excited to be able to perform it to such an enthusiastic audience. In Aspen, we have such a supportive community of people coming to the concerts, and there's not a greater feeling than finishing a performance and getting a standing ovation from a packed crowd. Nothing replaces that."
That community support is one of the many reasons the twenty-one-year-old has spent three summers in Aspen. That, and the opportunity to study with the incomparable artist-faculty members David Halen and Robert Lipsett and play alongside the most talented student musicians the world over.\
"The setting is wonderful, and the instruction doesn't get any better," he says. "Being able to play with my teachers on stage has been eye-opening, and of course the community that you establish with the kids you meet here is incredible. Everyone sort of congregates at this head of classical music every summer, which is pretty fantastic."
Millstein's love for classical music developed at an early age, despite the fact that he doesn't come from a family of musicians. He picked up the violin at seven years old when he was offered the opportunity through his school's music class. At the time, he was attracted to the violin because of the way it looked and the way it felt under his chin. He loved the sound, too—though maybe not the sounds he brought out of the instrument at first.
"I liked how it looked, and I have always liked the sound, but obviously I wasn't making that kind of sound when I first started," he says with a laugh. "But I always wanted to play violin."
The violin was always a passion for Millstein, but in sixth grade, during a two-week summer Suzuki camp, it became something more.
"I always loved music, but that's when I really got kicked into gear," he says. "I started reading books about composers, and I was listening to classical music all the time. That's when I really put the pedal to the metal, and it just kept blossoming from there."
Now, Millstein is working on his bachelor's degree in violin performance at the University of Michigan's School of Music, Theatre & Dance. He dreams of an orchestra career, but he also sees music as a means of fighting for social justice, and that aspect of musicianship is just as important to him as performance. He's already developed an app for classical music education, and he believes the opportunities for music to improve the world are endless.
"When Deborah Borda came and spoke for the [AMFS] Convocation, she really hit it home with a lot of things she said about being a citizen as well as a musician," he says. "I think for our generation of classical musicians, we have to be very active in our communities. It's super important, more now than ever, to figure out how to use the violin and music as a form of social justice. Whatever that means, I'm still trying to figure it out.
"I would love to, in addition to an orchestral career, maybe even start my own youth orchestra in an underprivileged area, ramp up classical music awareness in different communities, and bring communities together to realize the importance and the power that music has," he continues. "It's something I'm really passionate about."