William Neri, viola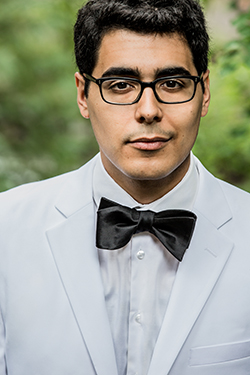 According to twenty-five-year-old Aspen Music Festival and School student William Neri, there is no better seat in a concert hall than the one belonging to a violist.
"I'm so lucky, especially where I'm sitting now," says Neri. "I was just thinking that in rehearsal the other day. I've always felt it's the best seat in the house or on the stage, because you're in front of it all. You feel like you're completely surrounded."
The violas are indeed surrounded—which is why they are sometimes overshadowed by their neighboring violin and cello sections. Compared to those other string instruments, the viola can feel "on the fringe of classical music popularity," says Neri. But that doesn't bother him at all.
"The things that people say are not so great about my instrument are the things that most violists love about it," he explains. "We're not really in the spotlight…but my personality never really craved attention. I like having something to say, and getting something across, that isn't immediately apparent.
"We're like the unsung heroes of the orchestra, because we're the glue between the high and low registers [of the violins and the cellos]. That's a harmonic importance. And, rhythmically, we always have the driving patterns. If you take that away, people may not notice it's gone, but they'll all of a sudden stop playing the rhythms and it will just fall apart."
Neri's interest in the viola began when he was seven years old and picked up the instrument after his older sister began learning it. But it wasn't until his junior year of high school that viola became a serious pursuit. That was when Neri, who grew up in Connecticut, transferred to an arts boarding school outside of Boston. "Once I got there, it was kind of a reality check," he says. "I was completely surrounded by people my own age who were incredibly dedicated to this thing that I thought I was also dedicated to."
Spurred on by his new surroundings, Neri threw himself into his music. After wrapping up high school, he went on to complete his undergraduate studies at Peabody Conservatory and, this past spring, graduated from the University of Maryland with his master's degree in viola performance.
Now Neri is in his fourth summer studying at the AMFS, where he's a recipient of a Vincent Wilkinson Scholarship and studies with artist-faculty member Victoria Chiang, with whom he also studied while at Peabody. The opportunity to continue studying with Chiang is what brought him to the AMFS for the first time, and a big reason why he's continued to return. But he's also drawn by the musical inspiration a summer in Aspen can provide, which he says is even more valuable now that he's completed his degrees.
"When you're not in school anymore, there isn't inspiration knocking on your door every day," he says. "You have to look harder for it. So it's nice to come to Aspen and put some of that in my pocket to bring back home with me."
So what's next for Neri? When he heads back to Maryland later this summer, he'll continue pursuing as many freelance opportunities as possible. Past that, he's open to practically anything music can offer him.
"If I have my instrument under my chin, and I'm playing it, and I'm making music—I don't care where it is or who it's with, or the name on the marquee. I really have no need to be in a specific place or have a specific status attached to my life. I just want to play."