Season Theme and Mini-Festival Themes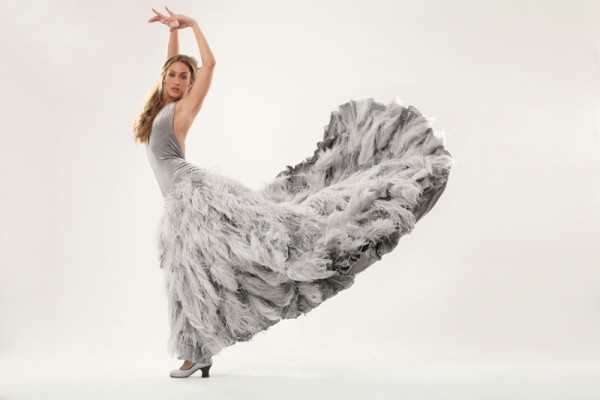 Siudy Garrido of Siudy Flamenco Dance Theater will perform alongside the Aspen Chamber Symphony for Falla's El amor brujo on August 19.
Invitation to Dance
This season the Aspen Music Festival and School invites you to feel the rhythmic influence of dance on music with our 2016 theme Invitation to Dance. Musicologist Wendy Heller writes of this season's theme that music influenced by dance "travels, almost unbidden, from the ear to the body, which cannot help but be infected by the aristocratic lilt of the minuet, the dizzying, extravagant sway of the waltz, or the sensuous intimacy of the tango."
In Bach's lilting sonatas and partitas for solo violin Augustin Hadelich (July 7) and Midori (July 13) will bring to the Harris Concert Hall stage some of the earliest examples of dance music that was written purely for the listener; and in Chopin's sixteen polonaises (every Friday at 4:45 in Harris Concert Hall) you'll hear this idea of dance music for the ear stretched to its utmost pianistic virtuosity. Beethoven's "apotheosis of dance," his Seventh Symphony, will the "blissful insolence of joy," as described by Richard Wagner, to the Benedict Music Tent on July 8. You'll experience the evolution of that most decadent and splendorous of European dances, the waltz, in its renderings by Brahms, Johann Strauss II, and Ravel. And the exotic will be conjured through the Eastern European rhythms of Dvořák, Bartók, and Ligeti, as well as the flamenco heel-stamps and hand-claps of Falla's El amor brujo (August 19, featuring Siudy Flamenco Dance Theater) and seductive tangos of Piazzolla (July 28 with Sarah Chang) and Argento (July 24).
Dance appears in every stage of music's long history, and our 2016 season is sure to get your feet moving and heart pumping!
Shakespeare, White Nights, and Mid-Century American Symphonists
In addition to Invitation to Dance, this season we celebrate three mini-festival themes.
The 400th anniversary of Shakespeare's death will be marked by music influenced by The Bard, with Berlioz's treatment of Much Ado About Nothing in his opera Béatrice et Bénédict (August 16, 18, and 20), as well as an evening of songs "Of Love and Madness," exploring musical scenes in which Shakespeare's great heroines are driven to madness by love of another (July 20).
In our White Nights theme, music from the arctic north will be celebrated with works from Sibelius, Shostakovich, Prokofiev, John Luther Adams, and multiple works by Finnish composer-in-residence Kaija Saariaho (August 3 with Jennifer Koh and August 5 with Aspen Chamber Symphony).
And throughout the season we'll explore the work of the mid-century American symphonists with music by the great modernists Ives, Piston, Sessions, and Mennin.
Theme Works
Invitation to Dance
J. S. BACH: Partita No. 1 for Unaccompanied Violin in B minor, BWV 1002
J. S. BACH: Partita No. 2 for Unaccompanied Violin in D minor, BWV 1004
J. S. BACH: Partita No. 3 for Unaccompanied Violin in E major, BWV 1006
J. S. BACH: Sonata No. 2 for Unaccompanied Violin in A minor, BWV 1003
VIVALDI/J. S. BACH/CORTOT: Siciliano from Concerto in D minor, BWV 596
J. S. BACH/BRAHMS: Chaconne in D minor, BWV 1004, for the Left Hand
HAYDN: String Quartet in D minor, H. III/76, op. 76, no. 2, "Fifths" (specifically "Witches' Minuet")
HAYDN: Symphony No. 88 in G major, Hob. I/88
BEETHOVEN: Symphony No. 7 in A major, op. 92
BEETHOVEN: Piano Sonata No. 12 in A-flat major, op. 26, "Funeral March"
CHOPIN: Polonaises (all 16 are being played in a series throughout the season)
BRAHMS: Waltzes from op. 39
BRAHMS/SCHOENBERG: Piano Quartet No. 1 in G minor, op. 25 (last movement)
J. STRAUSS JR: The Beautiful Blue Danube, op. 314
DVOŘÁK: Slavonic Dances, op. 46
LALO: Symphonie espagnole, op. 21
CHABRIER: España, rhapsody
DEBUSSY: Danses sacrée et profane
R. STRAUSS: Suite from Der Rosenkavalier
GRANADOS: from Goyescas, o Los majos enamorados
RAVEL: La valse
RACHMANINOFF: Symphonic Dances, op. 45
FALLA: El amor brujo
LIGETI: Romanian Concerto
INFANTE: Three Andalusian Dances
ANTHEIL: Archipelago, "Rhumba"
PIAZZOLLA: Bandoneón Concerto
PIAZZOLLA/LEONID DESYATNIKOV: The Four Seasons of Buenos Aires
DOMINICK ARGENTO: Tango from The Dream of Valentino
Shakespeare in Music: Recognizing Shakespeare's 400th anniversary year
BEETHOVEN: Piano Sonata No. 17 in D minor, op. 31, no. 2, "Tempest"
BERLIOZ: Béatrice et Bénédict
PURCELL: Thrice Happy Lovers, and Ye Gentle Spirits of the Air, from The Fairy Queen
TCHAIKOVSKY: Romeo and Juliet Fantasy Overture
THOMAS: A vos jeux mes amis, from Hamlet
KORNGOLD: Songs of the Clown, op. 29
BERLIOZ: Scenes, from Romeo and Juliet
White Nights: Showcasing music from above the Arctic Circle
JOHN LUTHER ADAMS: Inuksuit
MUSORGSKY: Pictures at an Exhibition
PROKOFIEV: Symphony No. 7 in C-sharp minor, op. 131
PROKOFIEV: Piano Concerto No. 2 in G minor, op. 16
KAIJA SAARIAHO: Frises
KAIJA SAARIAHO: Graal théâtre
KAIJA SAARIAHO: Jardin Secret
SCHNITTKE: Piano Quintet
SHOSTAKOVICH: Symphony No. 8 in C minor, op. 65
SIBELIUS: Symphony No. 1 in E minor, op. 39
The music of the mid-century American symphonists
HARRIS: Symphony No. 3
IVES: Central Park in the Dark
IVES: Violin Sonata No. 1, op. 60
IVES: Violin Sonata No. 2, op. 61
IVES: Violin Sonata No. 3, op. 62
IVES: Violin Sonata No. 4, op. 63, "Children's Day at the Camp Meeting"
MENNIN: Symphony No. 5
PISTON: Symphony No. 2
SESSIONS: Violin Concerto