Volunteer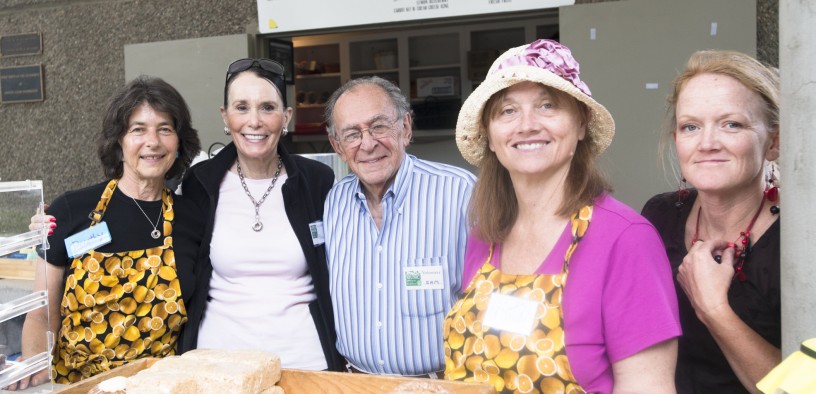 Interested in becoming more involved with The Aspen Music Festival and School? Join more than 200 dedicated volunteers who help the Festival and the Aspen-Snowmass community grow stronger each year. Volunteer with Aspen Music Festival to make friends, make a difference, and earn some concert tickets in the process!
Get Involved
Lemonade Stand
The Lemonade stand is open before concerts and throughout intermission whenever there are concerts at the Benedict Music Tent. Volunteers set out and sell refreshments to concert-goers who may need a cup of hot coffee on a chilly summer night or a delicious snack on a sunny afternoon. Proceeds from the Lemonade stand go toward the student scholarship program.
Music Ambassadors
These volunteers meet, greet, and assist concertgoers as they arrive on the Benedict Music Tent campus. Positioned around the grounds and in the Concierge information booth before, during, and after concerts, these well-trained volunteers are the "go-to" people who answer questions about the Festival as well as the local area. They are easy to recognize with their royal blue polo shirts and welcoming smiles.
Gift Kiosk
Many visitors to the Aspen Music Festival and School want to remember their musical experiences in Aspen by purchasing a memento or two. The Gift Kiosk, located just outside the main entrance to the Benedict Music Tent, carries a wide variety of AMFS logo inventory including everything from fleece jackets and t-shirts to season posters. Volunteers help customers and sell merchandise.
Student Arrival
Students arrive in Aspen for a four or eight-week program. They hail from homelands sometimes continents away. Returning students know just what to do when they arrive at the Aspen airport but many students are new, jet-lagged, and confused. Volunteer greeters welcome these students and direct them to the Bucksbaum Campus and to their housing.
Registration
Hundreds of music students arrive in Aspen within a 2-day period at the beginning of the summer season. This is an exciting and confusing time for students who must shape their schedules to include auditions, instruction, practice room space, rehearsal time, meal arrangements, performances, and all other activities in their very busy lives at AMFS. Registration volunteers help to channel students through this busy process.
Student Auditions
Following registration, students go through an audition process for placement in one of the Festival orchestras. Auditions take place at various locations on the Bucksbaum Music School Campus and volunteers help to ensure that the audition process run smoothly; a wonderful way to meet and get to know students.
Guided Tours
The Aspen Music Festival and School offers three guided tours:
Matthew and Carolyn Bucksbaum Campus Tours
The Music School campus is located on an old silver mine site. Guided tours incorporate interesting tidbits about Aspen's silver mining era, history of the campus, details about today's use as a music school, and the Festival's future plans for updating and revitalizing this special location.
Benedict Music Tent and Harris Concert Hall Backstage Tours
This tour offers visitors an opportunity to learn about the history of both performance venues and view them from audience, musician, and backstage vantage points. Harris Concert Hall, located 30 feet below ground, is connected to the Benedict Music Tent by an underground tunnel which is included in the tour.
Walking Tours to the Tent
These guided tours begin at the Hotel Jerome, meander through the historic West End neighborhood, and wind up at the Benedict Music Tent. During the tour, guides share details about Aspen's history, the charming Victorian architecture, and the area's geology.

Office Volunteers
Working in the main room of the administrative building on the Bucksbaum Campus (where miners once took their meals, their recreation, and their lodging). Volunteers work together on various mailings, packet assemblies, and special projects. It's a great place to spot famous musicians arriving to conduct Festival business.
Student Dinner Program
What student hasn't longed for a home-cooked meal? Our student dinners pair audience members with music students, giving the students the chance for a delicious meal in a warm and friendly setting. Students and audience members alike love this win-win program.
Special Events
The Development Department uses volunteers to help execute many donor-related events each summer. Volunteers sometimes assemble materials prior to an event, help monitor silent auctions, register guests, and/or serve food and drinks at benefits and receptions.
Tearsheet Distribution
Each week the Festival produces the ever-popular Tearsheets. These one-page sheets allow visitors and locals alike to see the most complete and current schedule of events for each day of the week. Volunteers distribute Tearsheets throughout town, the Airport Business Center, Snowmass Village, and mid-valley locations along designated routes. It's a great way to be out and about, talking with people about the Festival.
For more information, please contact:
Diane Stine
Guest Services
970 205 5074
dstine@aspenmusic.org