A Recital by Conrad Tao piano
Back To Calendar
With special thanks to Barbara and Jonathan Lee
This event has
already taken place.
JASON ECKARDT: Echoes' White Veil
BEETHOVEN: Piano Sonata No. 17 in D minor, op. 31, no. 2, "Tempest"
---
SCHUMANN: Kreisleriana, op. 16
The passion, intellect, and charisma of Aspen alumnus Conrad Tao will be showcased in this program of shifting musical moods. The Piano Sonata No. 17 from Beethoven's middle period alternates between storm and calm, as it bridges conventions of the Classical era and the emerging Romantic style that would eventually overtake them. When Beethoven was asked by a friend what the piece symbolized for him, he said simply, "Read The Tempest of Shakespeare."
As with many composers, Robert Schumann lived under the shadow of Beethoven's intimidating genius, but managed early on to find his own compositional voice. He wrote his eight-movement suite Kreisleriana in only four days, inspired by a fictional musician named Johannes Kreisler created by the great Romantic writer E.T.A. Hoffmann. The piece was also a love letter in disguise to his then fiancée, the pianist Clara Wieck. "Play my Kreisleriana sometimes!" he told her. "There's a very wild love in a few movements, and your life and mine and many of your looks." As with Beethoven's "Tempest" Sonata, you'll hear a variety of mood swings which reflect the conflicting aspects of both Kreisler's and Schumann's personalities. Perhaps because of its highly personal nature, Kreisleriana was Schumann's favorite work.
Opening the evening is Jason Eckhardt's Echoes' White Veil, inspired by a prose poem by W.S. Merwin, dealing with echoes and silences. This jazzy piece begins with spiky rhythms and nonstop momentum, then melts into a quieter and more introspective finale. Let one of the most compelling and fascinating artists of his generation take you on a riveting musical ride!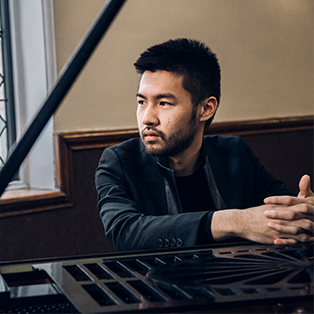 Featured Conductor & Artists