A Recital by Daniil Trifonov piano
Back To Calendar
With special thanks to Nancy and Charles Wall
Reserved Seating
Please Note:
Tickets will remain in cart for 30 minutes.
BERG: Piano Sonata, op. 1
PROKOFIEV: Sarcasms, op. 17
BARTÓK: Out of Doors, BB 89
COPLAND: Piano Variations
MESSIAEN: from Vingt regards sur l'Enfant-Jésus
---
LIGETI: from Musica ricercata
STOCKHAUSEN: Klavierstücke No. 4, no. 9
JOHN ADAMS: China Gates
JOHN CORIGLIANO: Fantasia on an Ostinato
THOMAS ADÈS: Traced Overhead, op. 15
"Even having seen it, one cannot quite believe it. Such is the artistry of pianist-composer Daniil Trifonov," marveled the Cleveland Plain Dealer. Trifonov wowed last summer's Aspen audiences with a performance of his own piano concerto and a mesmerizing recital.
Now 28, he returns with an array of daredevil twentieth-century works. From Berg's fascinating opus 1 sonata rooted in traditional classical form, to the harmonic piquancy of Prokofiev, and from Bartók's Out of Doors with its Romanian and Hungarian folk influences to Copland's first certifiable masterpiece, the program's first half will have you riveted.
After intermission, the lullaby movement from Messiaen's Vingt Regards sur l'enfant-Jesus begins serenely and builds to virtuosic cadenza and explosive climax. The diverse soundscapes of Stockhausen, John Adams, John Corigliano, and Thomas Ades complete this adventurous recital.
Hear one of the most commanding artists of our time in a pianistic tour de force!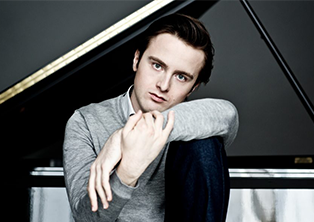 Featured Conductor & Artists
Tickets will remain on hold for 30 minutes.