A Recital by Kristóf Baráti violin and Anton Nel piano
Back To Calendar
With special thanks to Caryn and Rudi Scheidt, Jr.
This event has
already taken place.
J. S. BACH: Sonata No. 1 for Unaccompanied Violin in G minor, BWV 1001
BRAHMS: Violin Sonata No. 2 in A major, op. 100
---
TCHAIKOVSKY: Souvenir d'un lieu cher (Souvenir of a Beloved Place), op. 42
YSAŸE: Sonata for Unaccompanied Violin in D minor, op. 27, no. 3, "Ballade"
RAVEL: Tzigane, rapsodie de concert
Acclaimed for the "poetry and eloquence" of his playing by Seen and Heard International and his "rich-toned musicianship…matched by technical excellence" by Classical Source, Hungarian violinist Kristóf Baráti makes his Aspen debut. Playing the violin is only one of Baráti's talents: he's also an avid photographer, an airplane pilot, and an exceptional chess player who almost tied in a match against Vladimir Kramnik, World Chess Champion 2000-2007.
This gorgeous program opens with the one of the most engaging and tuneful of Bach's solo violin sonatas. It continues with the radiantly lyrical Brahms Second Violin Sonata, composed during a summer sojourn in Switzerland. Brahms was completely taken by his surroundings, saying they were "so full of melodies that one has to be careful not to step on any." Following intermission, Baráti turns to Tchaikovky's Souvenir of a Beloved Place whose first movement was also written in Switzerland. He'll end with violin pyrotechnics, Ysaÿe's "Ballade" Sonata and Ravel's Tzigane, both dazzling showpieces full of double stops, lightening-like runs, and gypsy rhythms.
See why Baráti is gaining international recognition and won Hungary's highest cultural award!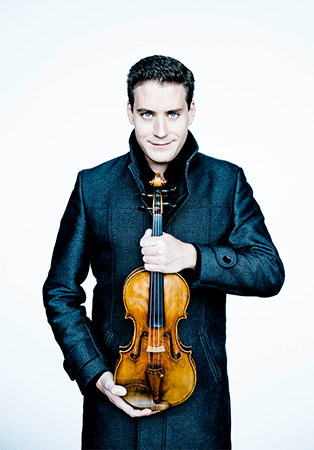 Featured Conductor & Artists