A Recital by Robert McDuffie violin
Back To Calendar
With special thanks to Soledad and Robert Hurst
This event has
already taken place.
BEETHOVEN: Violin Sonata No. 4 in A minor, op. 23
PAULUS: The Long Shadow of Lincoln
MENDELSSOHN: Piano Trio No. 2 in C minor, op. 66
Celebrated for his brilliant technique, charismatic stage presence and adventurous repertoire, Grammy nominee Robert McDuffie will be joined by fellow faculty artist Brinton Smith and Peter Mennin Prize Winner Derek Wang for a recital sure to delight and inspire. Beethoven's Fourth Violin Sonata is full of unusual elements including its dramatic minor key, a playful second movement which hovers between lyricism and sly humor, and a driving finale in which the piano always gets the first word.
Robert McDuffie played in the premiere of Stephen Paulus's stirring The Long Shadow of Lincoln, a setting of the text by Carl Sandburg commissioned by The Friends of Music at the Supreme Court and premiered at the Supreme Court Building in 1994.
By the time Mendelssohn composed his 2nd Piano Trio at age 36, his health and energy were already beginning to fail, but there's no sign of weakness in this meticulously crafted work. Sometimes symphonic in scale, the work features soaring, lyrical melodies and intricate, virtuosic passagework for the three players. The Bach-style chorale in the finale builds to a majestic and triumphant conclusion. Don't miss this performance by some of Aspen's favorite soloists!
Performances will be 75 minutes and there will be no intermission. Please check the "Concert Protocols" page before attending for the most up-to-date protocols.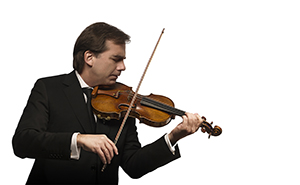 Featured Conductor & Artists