A Recital by the American String Quartet
Back To Calendar
With special thanks to Beth and Ben Wegbreit
Reserved Seating
Please Note:
Tickets will remain in cart for 30 minutes.
DVOŘÁK: String Quartet in F major, B. 179, op. 96, "American"
VIVIAN FUNG: String Quartet No. 4 – "Insects and Machines"
---
FRANCK: Piano Quintet in F minor
Exemplifying the season theme "Being American," the American String Quartet plays Dvořák's "American" String Quartet. Along with his "New World" Symphony and "American" String Quintet, Dvořák composed the quartet during his stay in Spillville, Iowa. All three works were premiered in the United States. Dvořák absorbed the melodies and rhythms of Native American and African-American music, many of which are reminiscent of those from his native Bohemia. The piece overflows with a sense of freedom and exuberance, and quickly became one of the most popular quartets in the repertoire. During Dvořák's lifetime, one ensemble claimed to have played it more than 50 times in one season!
Celebrated for his "exceptional sensitivity and stylistic discrimination" by the Los Angeles Times and "a beautifully weighted tone and a nearly flawless legato" by the Chicago Tribune, Anton Nel joins the American Quartet for the Franck Piano Quintet. The composer's romance with one of his students unleashed a flood of inspiration, resulting in his finest and best-known works including the Violin Sonata, Symphony in D minor, and this quintet. Hardly an unbiased critic, Franck's wife (who knew about the affair) had nothing good to say about the emotionally explosive and feverishly sensual piece. At the premiere, which featured Saint-Saëns at the piano, Franck walked onstage during one of the curtain calls and asked his fellow composer to accept the manuscript as a token of gratitude for his splendid performance. Saint-Saëns responded by abruptly exiting the stage, leaving the score on the piano—a gesture that was understood to represent his disdain for the piece he had just performed. These were, however, the minority opinions, and this monumental work with its symphonic dimensions has been widely embraced by critics and audiences alike.
Also on the program is a new work by Canadian composer Vivian Fung. She combines idiosyncratic textures and styles into large-scale works, reflecting her multicultural background, and has been called "one of today's most eclectic composers" by National Public Radio. Hear one of the premiere string quartets of our time as they celebrate their 45th anniversary!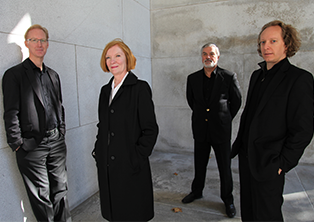 Featured Conductor & Artists
Tickets will remain on hold for 30 minutes.