Aspen Armchair Concerts: Simone Dinnerstein piano
Back To Calendar
This event has
already taken place.
PHILIP GLASS Etude No. 16
PHILIP GLASS Etude No. 2
SCHUBERT Piano Sonata in B-flat major, D. 960
View on the Virtual Stage through February 17 by clicking HERE. See the full list of free Armchair Concerts HERE.
Simone Dinnerstein is an American pianist with a distinctive musical voice. The Washington Post has called her "an artist of strikingly original ideas and irrefutable integrity." She is, wrote The New York Times, "a unique voice in the forest of Bach interpretation." An Aspen favorite, Dinnerstein has presented 11 programs at the AMFS in the past 14 years showcasing her imaginative programming. Here she pairs the beautifully spare, but colorful Phillip Glass Etudes with Schubert's final piano sonata.
The Aspen Music Festival and School is pleased to offer a series of virtual concerts created during the pandemic by musicians in the AMFS fold, both alumni and long-time performers.
These beautifully filmed and curated one-hour concerts are free and viewable for three days each from the comfort of your own home.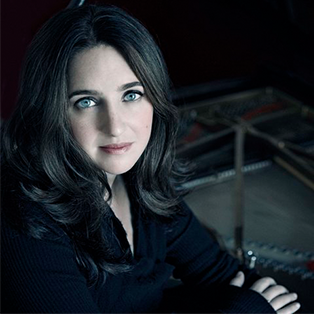 Featured Conductor & Artists