Aspen Chamber Symphony
Back To Calendar
With special thanks to Mary Giese, in memory of Erik Giese
Please Note:
Tickets will remain in cart for 30 minutes.
The Los Angeles Times called them a "star combo" at the Hollywood Bowl: Conductor Ludovic Morlot and violinist Simone Porter join forces for the season's first Aspen Chamber Symphony concert.
Hear two twentieth-century rarities inspired by Baroque and Renaissance composers. Richard Strauss's charming pastiche of eighteenth-century dance styles and late Romantic orchestration offers pure enjoyment. Stravinsky's lyrical Monumentum pro Gesualdo di Venosa, an arrangement of madrigals composed for Gesualdo's 400th birthday, was a favorite of New York City Ballet's famed principal ballerina Darci Kistler, who danced George Balanchine's choreography to it during her farewell performance.
Violinist Simone Porter, whose "knockout" Mozart playing was celebrated by the Seattle Times for its "clear and beautifully finished phrasing," takes on that composer's Third Concerto. Mozart decided to master the art of writing violin concertos by composing three of them in five months shortly before his 20th birthday.
This delightful program concludes with Beethoven's witty and prankish Eighth Symphony, which includes an affectionate parody of the metronome, a device that had been recently perfected by a friend of Beethoven's.
*R. Strauss's from Dance Suite after Couperin is part of the season theme, "Enchantment."
Program
R. STRAUSS: from Tanzsuite nach Klavierstücken von François Couperin, TrV 245 (Dance Suite after Couperin)
MOZART: Violin Concerto No. 3 in G major, K. 216
—
STRAVINSKY: Monumentum pro Gesualdo di Venosa (ad CD annum)
BEETHOVEN: Symphony No. 8 in F major, op. 93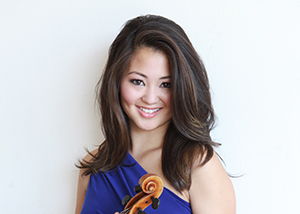 Featured Conductor & Artists
Please note: Tickets will remain on hold for 30 minutes.
Loading Seats...

Benedict Music Tent
Note: Tablet users may need to zoom in to seating chart to select seats.