Aspen Chamber Symphony
Back To Calendar
With special thanks to Richard Edwards, in memory of Harley Baldwin, In recognition of the members of the AMFS National Council
Please Note:
Tickets will remain in cart for 30 minutes.
From her debuts with the New York Philharmonic and Philadelphia Orchestras at age eight, Aspen alumna Sarah Chang has thrilled audiences with her technical assurance and powerful interpretations. With Patrick Summers on the podium, she'll play Vitali's Chaconne, full of such wild and uncharacteristically Baroque modulations, there has been speculation as to its composer. Ravel's dazzling, Hungarian-style showpiece Tzigane is full of surprises and violin pyrotechnics.
Drawing on his deep operatic experience, Summers conducts excerpts from two stage works. Wagner's Lohengrin was the composer's first internationally recognized masterpiece and the work that officially announced the arrival of a new operatic genius. Prokofiev's The Love for Three Oranges is based on an adaptation of an absurdist Italian fairy tale in which a Prince falls in love with three oranges. The score is full of playful charm, as well as Prokofiev's characteristic orchestral brilliance and deliciously piquant harmonies.
Also see Sarah Chang perform Vivaldi's The Four Seasons in a special event on July 19.
*Prokofiev's Symphonic Suite from The Love for Three Oranges is part of the season theme, "Enchantment."
Program
STEPHEN HARTKE: Pacific Rim
VITALI/CHARLIER: Chaconne in G minor
RAVEL: Tzigane
—
WAGNER: Prelude to Act I from Lohengrin
PROKOFIEV: Symphonic Suite from The Love for Three Oranges, op. 33bis*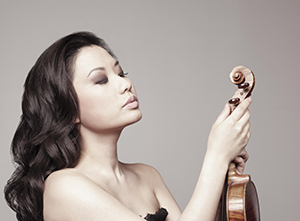 Featured Conductor & Artists
Please note: Tickets will remain on hold for 30 minutes.
Loading Seats...

Benedict Music Tent
Note: Tablet users may need to zoom in to seating chart to select seats.