Aspen Chamber Symphony
Back To Calendar
With special thanks to Jane and Gerald Katcher, and the Patricia M. and Emanuel M. Papper Foundation, Local business support provided by members of the Aspen Board of REALTORS
Please Note:
Tickets will remain in cart for 30 minutes.
Heralded by the U.K.'s Daily Telegraph for "playing of intellectual rigour and imaginative vigour," British pianist Paul Lewis will solo in Beethoven's First Piano Concerto. Lewis has received international accolades for his recordings of all thirty-two Beethoven sonatas, and was the first to play all five Beethoven concertos in a single season of the BBC Proms. His approach to this youthful Beethoven work was praised in Gramophone for its "vital, but never driven" first movement, "quiet, hauntingly sustained poise and eloquence" in the second movement, and "crisp articulation" in the finale [that] "sends Beethoven's early ebullience dancing into captivating life."
Composed in his early twenties during an unsuccessful love affair with a soprano, Mahler's Songs of a Wayfarer was his first mature work and introduced a new genre, the orchestral song cycle. Borrowing from German folk poetry, Mahler wrote the texts himself. The four songs encompass a range of human emotion: express sadness on the lost beloved's wedding day, jubilation while being in Nature, pent-up bitterness of spurned love, and finally, quiet resignation. Awarded Young Singer of the Year by Germany's prestigious Echo Klassik, baritone Andrè Schuen makes his North American debut this summer.
Schumann's 4th Symphony was actually the second he completed, and was written during a happy time in the composer's often troubled life. Mendelssohn was to have conducted the premiere, but when he was unavailable, the work received a lackluster performance, prompting Schumann to revise it ten years later. It became one of the last great public and critical triumphs of his career. Modeled after Schubert's "Wanderer" Fantasy, the symphony was an ingenious experiment in form which became a prototype for Schoenberg's 1st Chamber Symphony and Sibelius's 7th Symphony.
Also see Andrè Schuen in recital on July 29.
Program
BEETHOVEN: Piano Concerto No. 1 in C major, op. 15
—
MAHLER: Lieder eines fahrenden Gesellen (Songs of a Wayfarer)
SCHUMANN: Symphony No. 4 in D minor, op. 120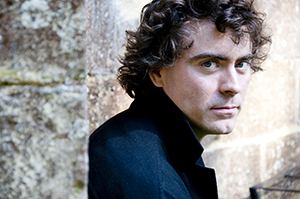 Featured Conductor & Artists
Please note: Tickets will remain on hold for 30 minutes.
Loading Seats...

Benedict Music Tent
Note: Tablet users may need to zoom in to seating chart to select seats.