Aspen Chamber Symphony
Back To Calendar
With special thanks to Richard Edwards, in memory of Harley Baldwin, and to Mary Giese, in memory of Erik Giese
This event has
already taken place.
BERNSTEIN: Symphony No. 2, The Age of Anxiety, after W. H. Auden
---
BEETHOVEN: Symphony No. 3 in E-flat major, op. 55, "Eroica"
Giants of the 19th and 20th centuries — Beethoven and Bernstein — dominate this powerful program.
Bernstein began writing his Symphony No. 2 in the summer of 1947, after reading W. H. Auden's Pulitzer Prize–winning poem The Age of Anxiety, which Bernstein called "fascinating and hair-raising." He felt an "extremely personal identification" with the poem and recognized it as being fundamentally about "our difficult and problematic search for faith"; as a result, he said, writing "a symphony based on The Age of Anxiety acquired an almost compulsive quality." The structure of the symphony was also influenced by Auden's work: Bernstein divided the poem's six sections into what he called "two large parts" and then divided those parts into "three sections played without pause." The addition of the solo pianist — which is unusual for a symphonic work — "provides an almost autobiographical protagonist," Bernstein said, "set against an orchestral mirror in which he sees himself, analytically, in the modern ambience."
Jean-Yves Thibaudet returns to the Festival to solo in The Age of Anxiety, which he's described as one of Bernstein's "really great pieces of music." Gramophone magazine praised Thibaudet's 2017 recording of the symphony with Marin Alsop and the Baltimore Symphony Orchestra, calling it "scintillating" and raving that Thibaudet is "the most soulful of players."
Beethoven initially dedicated his Symphony No. 3 to Napoleon and named it after him as well, since he saw Napoleon as embodying the ideals of democracy and political freedom that were at the heart of the French Revolution. In May 1804, however, Napoleon was declared Emperor of France, and Beethoven responded furiously, believing that the man he once admired had essentially become a dictator. As a result, Beethoven changed the name of the symphony and inscribed it to "the memory of a great man." Regardless of its legendary association with Napoleon, the "Eroica" Symphony stands out in its own right for being a groundbreaking and highly influential work (due to features like its unprecedented length, scope, and complexity) and for leading the transition from the Classical to the Romantic era.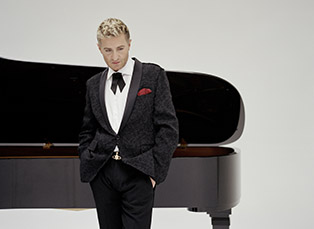 Featured Conductor & Artists
Tickets will remain on hold for 30 minutes.