Aspen Festival Orchestra
Back To Calendar
With special thanks to Jane and Michael Eisner, The Eisner Foundation, and Leonard and Judy Lauder; part of the Allison and Warren Kanders Sunday Concert Series.
This event has
already taken place.
SCHULLER: from Seven Studies on Themes of Paul Klee
TCHAIKOVSKY: Violin Concerto in D major, op. 35
---
JAKE HEGGIE/CRISTIAN MĂCELARU: Suite from Moby-Dick
COPLAND: Four Dance Episodes from Rodeo
One of the most beloved violin concertos in the repertoire is played by a brilliant new young talent. Bartók and Copland's masterful miniatures further delight on this fun, summery program.
Although it has long been an indispensable part of the repertoire, Tchaikovsky's Violin Concerto got off to a rocky start. The work was written on the heels of Tchaikovsky's brief, disastrous marriage and a suicide attempt. What followed was a brilliant burst of creativity. "My heart is full. It thirsts to pour itself out in music," he wrote. Unfortunately, what poured out was rejected by the great violinist Leopold Auer, to whom it was dedicated. He refused to play it, and when it was finally performed—horribly—two years later, the critic Eduard Hanslick called it music "whose stink one can hear." Today it is hard to believe that the work's overwhelming lyricism, hauntingly beautiful slow movement, and brilliant pyrotechnical finale ever evoked such a response. Esther Yoo—Aspen alumna, the youngest prize winner of the Sibelius Violin Competition, and the first ever Artist in Residence with the Royal Philharmonic Orchestra—is acclaimed for her "dark, aristocratic tone" (Gramophone Magazine) and "balanced grace" (The Herald).
Two works by American composers bookend this varied program. Selections from Gunther Schuller's Seven Studies on Themes of Paul Klee also reflect his love of jazz. After Copland wrote the ballet Billy the Kid, a young, unknown choreographer named Agnes DeMille asked him to compose a second Western ballet which she described as "Taming of the Shrew with cowboys." The result was the audience charmer, Rodeo, which always delights!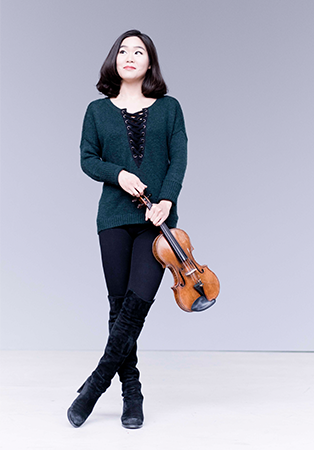 Featured Conductor & Artists