Aspen Festival Orchestra
Back To Calendar
With special thanks to Shirley and Barnett C. Helzberg, Jr., part of the Allison and Warren Kanders Sunday Concert Series
This event has
already taken place.
CHRISTOPHER THEOFANIDIS: Drum Circles
---
GERSHWIN Cuban Overture
MENDELSSOHN: Piano Concerto No. 1 in G minor, op. 25
BARTÓK: The Miraculous Mandarin Suite, BB 82, op. 19
"Jan Lisiecki. Remember the name," said the Financial Times. "Pristine, lyrical, and intelligent," waxed The New York Times, and "perhaps the most 'complete' pianist of his age," exclaimed BBC Magazine. Now twenty-four, the Canadian prodigy made his concerto debut at age nine. In a rave review, The New York Times called his 2016 Carnegie Hall debut recital an "uncommonly sensitive performance." Lisiecki's goal is always to communicate the beauty and brilliance of each work. He says, "Going into a concert hall should be like going into a sanctuary. You're there to have a moment of reflection, hopefully leaving feeling different, refreshed and inspired." Mendelssohn was not even as old as Lisiecki is now when he wrote his First Piano Concerto during the same trip to Italy that inspired his Fourth Symphony ("Italian"). It was an immediate triumph, with the King of Bavaria leading the applause. This compact and engaging piece is full of charm, winning melodies, and lots of glittering passagework for the soloist.
Drawn from a rich collection of young artists, the Percussion Collective is reinventing the concert experience through surprising and engaging performances. Drum Circle by Christopher Theofanidis is the first orchestral showcase for the ensemble, and was commissioned by a consortium including the Aspen Music Festival and School, Baltimore Symphony, Colorado Symphony, and the Oregon Symphony.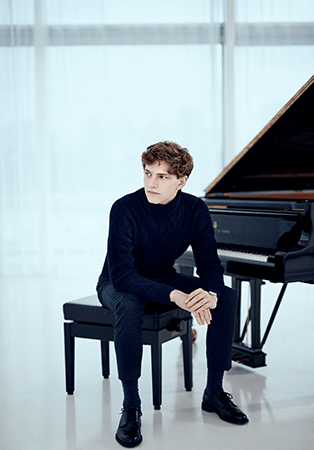 Featured Conductor & Artists