Aspen Festival Orchestra
Back To Calendar
With special thanks to the John P. and Anne Welsh McNulty Foundation and Betty and Lloyd Schermer, The Allison and Warren Kanders Sunday Concert Series
Please Note:
Tickets will remain in cart for 30 minutes.
In this season's first Aspen Festival Orchestra concert, AMFS Music Director Robert Spano is joined by pianist Garrick Ohlsson, whose "effortless virtuosity and total musical command" (The Guardian) have been thrilling audiences since he won the Chopin International Competition in 1970. He'll play what is widely regarded as Mozart's first piano concerto masterpiece, which Alfred Brendel called "one of the greatest wonders of the world." Originally thought to have been written for a traveling French virtuoso, a woman named "Jeunehomme," it was actually composed for a dancer who was a friend of Mozart's. Mozart lightly scored the piece for strings, two oboes, and two horns, but in his skillful hands, the forces sound much more substantial.
"It came gushing out like a mountain torrent," said Mahler of his First Symphony, which will be heard on the second half of the program. Written for a huge orchestra and full of youthful romanticism, the work follows the journey of Mahler's "hero" through episodes of optimism, struggle, and, ultimately, triumph.
Program
MOZART: Piano Concerto No. 9 in E-flat major, K. 271, "Jeunehomme"
—
MAHLER: Symphony No. 1 in D major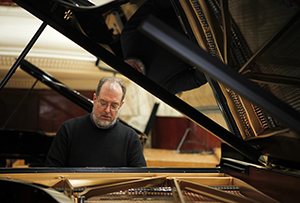 Featured Conductor & Artists
Please note: Tickets will remain on hold for 30 minutes.
Loading Seats...

Benedict Music Tent
Note: Tablet users may need to zoom in to seating chart to select seats.