Aspen Festival Orchestra
Back To Calendar
With special thanks to Kay Bucksbaum, Local business support provided by The Aspen Times, part of the Allison and Warren Kanders Sunday Concert Series
This event has
already taken place.
ANDREW NORMAN: Play: Level 1
KORNGOLD: Violin Concerto in D major, op. 35
---
R. STRAUSS: Duet-Concertino
RAVEL: La valse
The work of Andrew Norman, Musical America's 2017 Composer of the Year and an AMFS alumnus, has been celebrated by the Los Angeles Times for its "audacious" spirit and "Chaplinesque" wit and by The Boston Globe for its "staggering imagination." Play is a three-movement work, but, in a program note, Norman says that the first and third movements (or levels) "can be performed separately." The piece, he adds, stems from his fascination with "how instruments are played," and while the word play "certainly connotes fun and whimsy and a child-like exuberance, it can also hint at a darker side of interpersonal relationships, at manipulation, control, deceit, and the many forms of master-to-puppet dynamics one could possibly extrapolate from the composer-conductor-orchestra-audience chain of communication."
Violinist and AMFS alumnus Stefan Jackiw, who has been praised for his "remarkable purity of tone" by The New York Times and "talent that's off the scale" by The Washington Post, returns to the Festival to perform Korngold's richly romantic and colorfully orchestrated Violin Concerto, which was dedicated to Alma Mahler and given its premiere in 1947 by Jascha Heifetz and the St. Louis Symphony Orchestra. With themes drawn from a number of the composer's thrilling film scores, the piece is a virtuosic showpiece that dazzles by frequently stretching into the uppermost registers of the violin.
Two revered AMFS artist-faculty—clarinetist Joaquin Valdepeñas and bassoonist Per Hannevold—join forces for Richard Strauss's Duet-Concertino, the composer's last purely instrumental work. Strauss, who died in 1949 at the age of 85, composed this piece in 1946 and 1947 for his longtime friend Hugo Burghauser, the former principal bassoon for the Vienna Philharmonic who was living in New York at the time. In a letter to Burghauser, Strauss said that the work depicted "a dancing princess" who's "alarmed by the grotesque cavorting of a bear in imitation of her." In the end, he added, the princess "is won over to the creature and dances with it, upon which it turns into a prince."
Ravel's darkly surrealistic La valse concludes the concert. The piece was commissioned as a ballet by impresario Sergei Diaghilev, who wound up rejected it by saying: "Ravel, it's a masterpiece . . . but it's not a ballet. . . . It's the portrait of a ballet. . . . It's the painting of a ballet." Although Ravel successfully premiered La valse in 1920 in both a two-piano version and an orchestral arrangement — and eventually had it danced in Antwerp in 1926 and Paris in 1928 — he never forgave Diaghilev for his rejection. The animosity between the two men is said to have grown to the point where Diaghilev challenged Ravel to a duel, but that event, fortunately, never took place.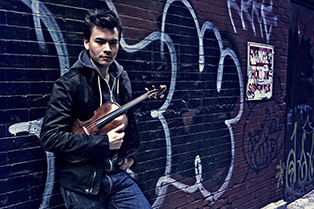 Featured Conductor & Artists
Tickets will remain on hold for 30 minutes.