Aspen Philharmonic Orchestra
Back To Calendar
Local business support provided by Hotel Jerome
This event has
already taken place.
STEPHEN HARTKE: Da pacem (Cello Concerto)
---
BRAHMS: Symphony No. 1 in C minor, op. 68
Brahms's heroically triumphant First Symphony anchors this inspiring concert. Opening with pounding timpani, the work covers a vast emotional landscape, ranging from fury to yearning, from calm sweetness to victorious ecstasy. It took fourteen years for Brahms to complete the work. Although Beethoven had died six years before Brahms was born, Beethoven's ghost hung over the younger composer. "You can't have any idea what it's like to always to hear such a giant marching behind you," he said. When the similarity between the theme of Brahms's noble last movement and Beethoven's "Ode to Joy" was pointed out, Brahms said, cheekily, "Any ass can see that."
Opening the program is American composer Stephen Hartke's Da pacem, a serene and reflective piece grappling with modern America. The first movement is built on plainchant, a form of medieval church song. The Scherzo is a prayer for peace which, in Hartke's words, features a "cheerful little tune being played in the orchestra while the cello is completely ignoring it." The third movement is based on the protest song, "Ain't you got a right to the tree of life?" While he was composing the Concerto, Hartke learned of the massacre at the Tree of Life Synagogue in Pittsburgh, turning what had begun as an abstract musical elegy into a very real one.
Come be fulfilled at this concert featuring insightful artist-faculty cellist Darrett Adkins and the talented Johannes Zahn, winner of the 2018 Aspen Conductor Prize!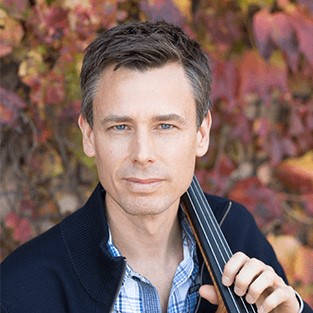 Featured Conductor & Artists