Mozart's Don Giovanni
Back To Calendar
With special thanks to the Stern Family Foundation
The Aspen Opera Theater and VocalARTS program and the residency of Renée Fleming are made possible by generous annual contributions from Mrs. Mercedes T. Bass - Mercedes T. Bass Charitable Corporation, Amy Margerum Berg and Gilchrist Berg, Jessica and John Fullerton, Alexandra Munroe and Robert Rosenkranz, and The Stern Family Foundation.
This event has
already taken place.
MOZART: Il Dissoluto Punito, O Sia Il Don Giovanni, K. 527
The magnificent singers of the Aspen Opera Theater and VocalARTS program bring a special staging of Mozart's spectacular opera to the Benedict Music Tent. Based on the legend of Don Juan, this comedy and morality tale wrapped in one tells the story of an irresistible yet irredeemable playboy whose escapades lead him along a path to his own destruction. Hand-picked for the program by Fleming and Summers, the talented student artists of AOTVA are already performing on stages around the world.
Performed with one 20-minute intermission.
This event will also be livestreamed for free. For a full list of livestreams, click here.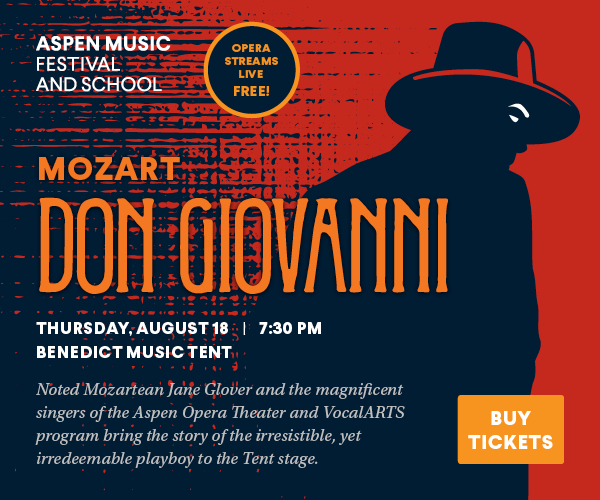 Featured Conductor & Artists