Percussion Ensemble
Back To Calendar
JULIA WOLFE: Dark Full Ride, Part I
CHARLES WUORINEN: Percussion Quartet
KATI AGÓCS: Concerto for Violin and Percussion Orchestra
—
Percussion Solo to be announced
ANTHEIL: Ballet mécanique
The AMFS Percussion Ensemble 2019 concert will showcase the best of "made in America" composers, featuring the "American Bad Boy" of contemporary music, George Antheil, whose Ballet méchanique caused a riot (much like Stravinsky's Rite of Spring) at Carnegie Hall upon its premiere in 1927. The Aspen Police Department has been put on "high alert" knowing this piece will be performed in its jurisdiction.
Less volatile as a composer, but equally American and iconic will be the Festival premier of Pulitzer-Prize-winning composer Julie Wolf's Dark Full Ride, a tour de force for hi hats and drumset cymbals.
One of the most significant percussion ensemble masterpieces of the twentieth century composed by Charles Wourinen, Percussion Quartet, has been programed once before at the Festival. When performed in 1993 student Cynthia Yeh, (who is now both a AMFS faculty member as well as principal percussionist of the Chicago Symphony) was able to manage the complex percussion four-part without assistance, while her male counterparts all required additional help to navigate the complexities of the individual parts.
Rounding out the program will be the performance of a unique and recently composed workby Kati Agócs, featuring violin virtuoso Jennifer Koh in the Festival premier of Concerto for Violin and Percussion Ensemble.
You will not want to miss this intriguing program that will also feature, the sound of John Denver's airplane propellers, recorded at Aspen's Sardy Field specifically for performances of Ballet méchanique.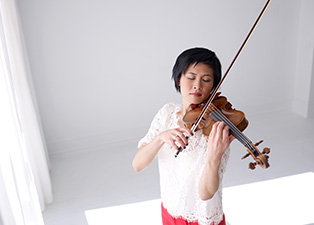 Featured Conductor & Artists