A Recital by Sergey Khachatryan violin, Alisa Weilerstein cello, Inon Barnatan piano, and Colin Currie percussion
Back To Calendar
With special thanks to Deborah and Richard Felder; in recognition of the members of the AMFS National Council
Reserved Seating
Please Note:
Tickets will remain in cart for 30 minutes.
BEETHOVEN: Piano Trio in D major, op. 70, no. 1, "Ghost"
ROLF WALLIN: Realismos Mágicos
SCHOENBERG/STEUERMANN: Verklärte Nacht, op. 4
---
SHOSTAKOVICH/VIKTOR DEREVIANKO: Symphony No. 15 in A major, op. 141
Four world-class soloists join forces for an evening of musical alchemy.
Armenian violinist Sergey Khachatryan was the youngest winner ever at the International Jean Sibelius Competition in 2000, and went on to claim First Prize at the Queen Elisabeth Competition in Brussels in 2005. His 2017 Aspen performance of the Beethoven Concerto won bravos from the audience and critics. Joining him are cellist Alisa Weilerstein and pianist Inon Barnatan, two musical supernovas with a long history of collaboration. Colin Currie, called "the world's finest and most daring percussionist" by The Spectator is also featured. With this musical dream team, it's no wonder that magical realism is the guiding principle of this adventurous program.
Beethoven's "Ghost" Trio got its nickname after Beethoven's death when his former pupil Carl Czerny remarked that the amazing slow movement made him think of the first appearance of the ghost in Hamlet. Later it was discovered that Beethoven may have had something supernatural on his mind when sketches for a Witches' Chorus for a possible Macbeth opera were found near those for this movement. Rolf Wallin takes the titles from stories by Gabriel Garcia Marquez for his eleven solo marimba pieces Realismos magicos. The intensely atmospheric sound world of Schoenberg's tone poem Verklärte Nacht depicts a miraculous transformation. A woman who is pregnant by a man she never loved walks with her true love, wracked with guilt, and despairing of ever having happiness together. "Look at this brilliant, moonlit world," responds the man. "It is like a cold ocean, but there is a flame within each of us that warms the other and which will transfigure the child and make it mine also." They kiss and then walk on through the radiant night. Shostakovich's surrealistic last symphony, heard here in an arrangement for piano trio and percussion, was a major influence on David Lynch's film Blue Velvet.
This recital is sure to spark your imagination!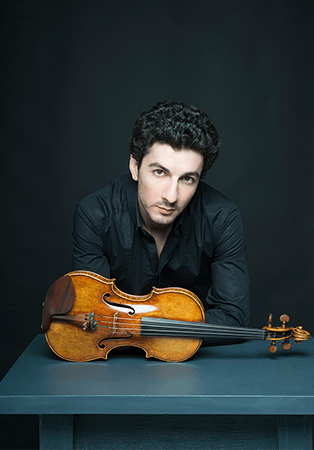 Tickets will remain on hold for 30 minutes.