Rossini's Il barbiere di Siviglia
Back To Calendar
With special thanks to Barbara Koval
7:00 PM
$75, $25 obstructed
This event has
already taken place.
In one of the world's most popular comic operas, a cunning barber helps a young ward escape from the custody of her guardian and into the arms of a noble suitor. Full of disguises and clever misdirection, this Rossini masterpiece boasts some of opera's most recognizable melodies and characters.
Other performances of Il barbiere di Siviglia:
July 14
Opera Benefit, July 16
July 16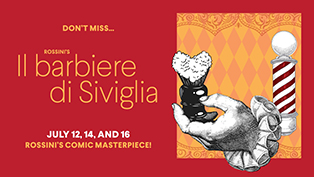 Featured Conductor & Artists
Tickets will remain on hold for 30 minutes.