Special Event: A Recital by Sarah Chang violin
Back To Calendar
With special thanks to Ruth Carver
Reserved Seating
Please Note:
Tickets will remain in cart for 30 minutes.
KODÁLY: Dances of Galánta
BRAHMS/PARLOW: Hungarian Dance in D major, WOO 1
BARTÓK/MAX MUELLER: Romanian Folk Dances, BB 76
—
DVOŘÁK: from Slavonic Dance No. 8 in G minor, op. 46
DVOŘÁK: Romance for Violin and Orchestra in F minor, op. 11, B. 39
J. STRAUSS JR.: Overture to The Gypsy Baron
RAVEL: Tzigane, rapsodie de concert
Noted by Artsfile for her "searing virtuosity" and "theatrical, expressive impulse," Aspen alumna Sarah Chang returns to play jewels of the violin repertoire.
Dvořák originally composed his Romance in F minor as the slow movement of a string quartet that was never publicly performed. He later rescored it for violin and orchestra. This tranquil and poignant piece opens with a yearning melody on which the soloist elaborates. A more dramatic second theme leads to some passionate outbursts before the nostalgic mood returns. Bartók's Romanian Dances are one of his most engaging and popular works. The six dances vary in mood and tempo, from hauntingly soulful to wildly exuberant.
One of the favorite encore pieces of the violin repertoire is Ravel's Tzigane. When the composer was at a soiree in England, he asked a Hungarian violinist to play a Gypsy melody—and then another, and another until the party broke up at 5 am. That planted the seed for this dazzling work which runs the soloist through a gauntlet of challenges before closing with a brilliant and flashy perpetual motion finale.
Don't miss a chance to see a true superstar in a ravishing program!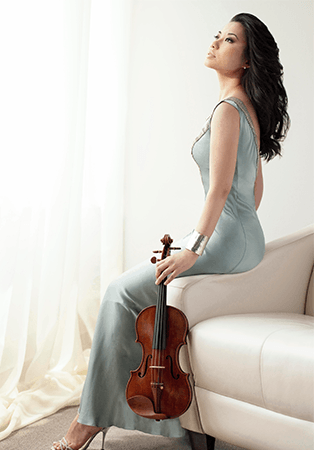 Featured Conductor & Artists
Tickets will remain on hold for 30 minutes.