Festival Lessons
Due to the COVID-19 pandemic, the full 2020 session of the Aspen Music Festival and School is canceled. Registration for school-year AfterWorks programs (Beginning Strings, Lead Guitar, and Maroon Bel Canto Choirs) will open in August. 2021 summer information and registration for Education and Community summer programming will be available on our website in late winter.
Virtual Private Lessons:
Many local music teachers are now teaching virtually, as are lots of past P.A.L.S. teachers (and some students who had been accepted to attend the AMFS this summer and teach within P.A.L.S.). Teacher contact info can be found at the following link, with teachers organized by instrument: P.A.L.S. and Local Teachers - Now Teaching Virtual Private Lessons
---
Lessons with top AMFS students are available to all interested (part-time or full-time) residents and visitors of the Roaring Fork Valley each summ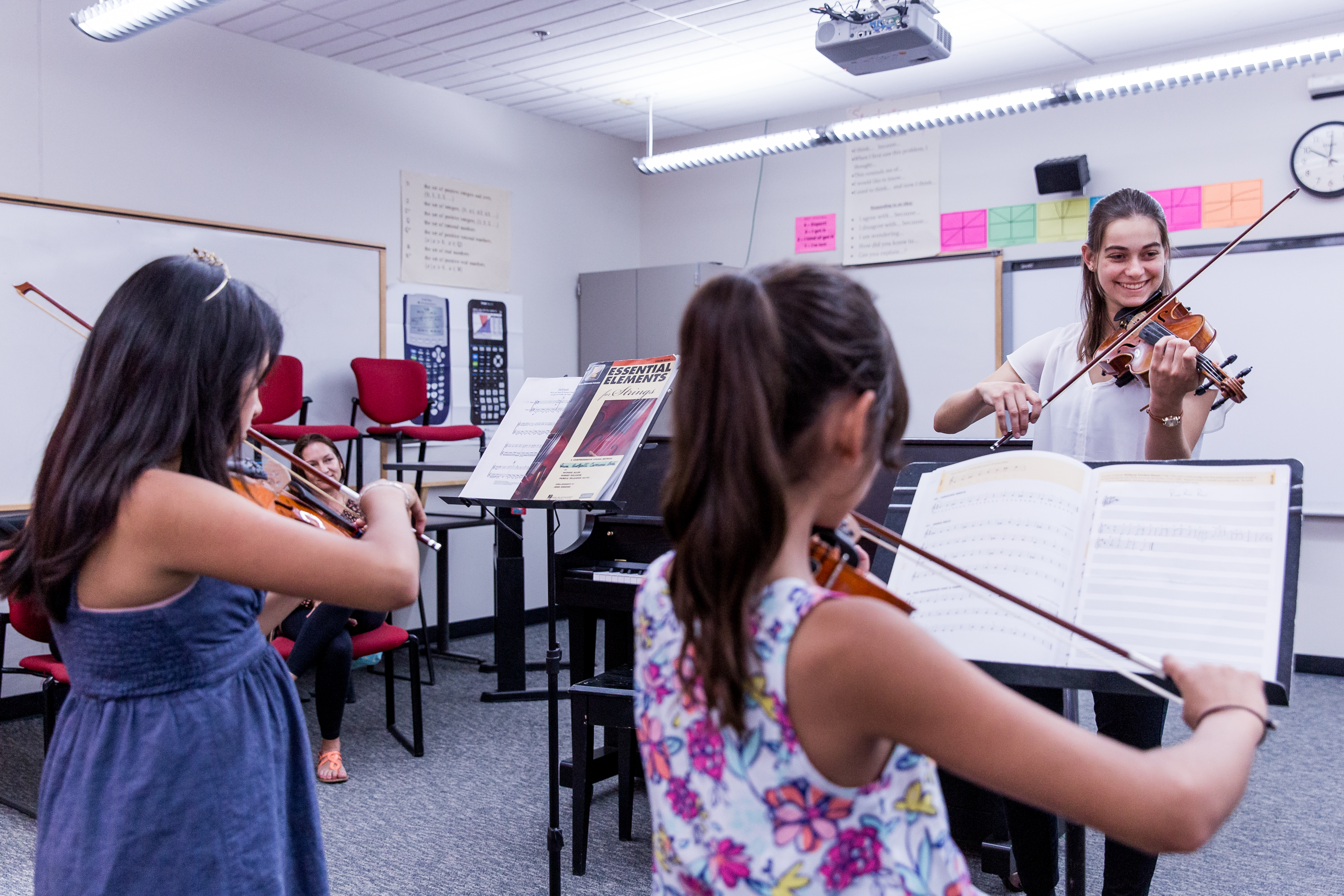 er. This opportunity is open to music enthusiasts of all ages, with or without prior music experience! Purchase a single lesson or a series - $30 per half hour lesson. Festival Lessons was formerly known as "Roaring Fork Valley Music Lesson Program."
Register here for a summer of musical learning!
Summer of 2020: Private lessons through the Festival Lessons program will begin on or after the start of the 2020 AMFS season on July 16. No teachers will be assigned to students until the AMFS students arrive on campus and are ready to begin teaching (approximately July 13).

Festival Lessons – Frequently Asked Questions:
What Instrument Can I Study?
Instruments of study include Violin, Viola, Cello, Double Bass, Flute, Oboe, Clarinet, Bass Clarinet, Bassoon, Alto Saxophone, Tenor Saxophone, Baritone Saxophone, French Horn, Trumpet, Trombone, Baritone/Euphonium, Tuba, Percussion, Harp, Piano, Guitar*, and Voice.
Do you want to study an instrument not listed here? Contact us! We may be able to accommodate your request.
* AMFS Guitar students/teachers are only in residence July 27 through August 23, 2020. Guitar lessons will only take place during this time.

When Do Lessons Take Place?
Once you've been assigned a Festival Lessons teacher, you'll work with that teacher to schedule lessons according to your shared availability.
Private lessons through the Festival Lessons program will begin on or after the start of the 2020 AMFS season on July 16. All lessons need to be completed by 9 PM on August 23, 2020.
Important: Refunds are not given for unused lesson vouchers.
Please note: The Festival Lesson program is NOT available outside of this time range.

Where Do Lessons Take Place?
Private lessons through the Festival Lessons program take place on the AMFS's Bucksbaum Campus (225 Music School Road - Aspen, CO 81611).

Why Are Lessons Sold in Half-Hour Increments?
Half-hour lessons work great for some people, particularly beginners and very young students. For others, hour-long lessons are better. To offer the most lesson flexibility, we sell lessons in half-hour increments. Feel free to combine half-hour lesson increments into one-hour lessons, if that's better for you. You'll need to purchase two half-hour lessons for each hour-long lesson you'd like to take.
---
To learn more, please contact:
Katie Hone Wiltgen
Director of Education and Community Programming
970-205-5055
khonewiltgen@aspenmusic.org