Beginning Strings
After-school violin, viola, and cello instruction for elementary students.
Schools | Cost and Scholarship | Apply
Program Information –
Information for the 2018-19 school year will be available in late August 2018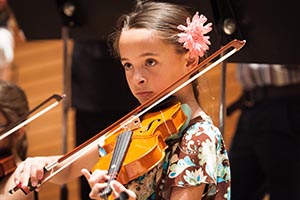 The AMFS's Beginning Strings program is open to students in grades 2-5 who wish to study a string instrument (violin, viola, or cello) through a curriculum that starts with group lessons, master classes, ensemble playing, and performance opportunities. The program also includes a series of private lessons for each Beginning Strings student. These private lessons serve as a chance for students to work on their technique in a one-on-one lesson setting, and we frequently see students make great gains when private lesson work is paired with the classroom experience.
Students in 1st grade are able to apply and will be accepted into the program (if space allows) only upon successful completion of a pre-program interview with a Beginning Strings coordinator and a commitment to significant involvement by the student's parents. Older middle school students are welcome to participate if they were enrolled in the program last year as a first-year program participant.
Our highly experienced teachers work to help students develop a joy and love for music through string education and performance. This program is a wonderful opportunity for children interested in music to begin playing violin, viola, or cello in a supportive, engaging musical environment. Parents are urged to support and encourage the students in daily practice.
Based on the financial commitment and the need for program consistency, it is important for all students to commit to an entire school year of classes.
Schools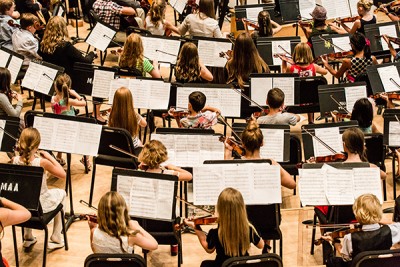 The Beginning Strings program is offered in seven schools during the 2017-2018 school year: Aspen Country Day School, Aspen Elementary School, Basalt Elementary School, Crystal River Elementary School, Glenwood Springs Elementary School, Riverside School, and Sopris Elementary School. A maximum of 20 students will be accepted into the program at each school (class minimum is eight students).
Mondays, starting October 9
3:15-4:45 pm
Required Parent Meeting: Monday, October 9 at 4:45 pm
Mondays, starting October 9
3:20-4:50 pm
Required Parent Meeting: Monday, October 9 at 4:50 pm
Tuesdays, starting October 10
3:25-4:55 pm
Required Parent Meeting: Tuesday, October 10 at 4:55 pm
Wednesdays, starting October 11
1:50-3:20 pm
Required Parent Meeting: Wednesday, October 11 at 3:20 pm
Tuesdays, starting October 10
3:40-5:10 pm
Required Parent Meeting: Tuesday, October 10, at 5:10 pm
Wednesdays, starting October 11
2:05-3:35 pm
Required Parent Meeting: Wednesday, October 11, at 3:35 pm
Thursdays, starting October 12
3:35-5:05 pm
Required Parent Meeting: Thursday, October 12, at 5:05 pm

Instruments
Students can select to play violin, viola, or cello through the Beginning Strings program. Not sure what to play? Pick violin. It's the most affordable and common instrument option. Students will receive information on where and how to purchase or rent an instrument upon acceptance into the program. Beginning Strings teachers can assist with the process of finding and sizing an instrument. All students should have an instrument ready for the first day of Beginning Strings class.
Blue Square, Black Diamond, and Double Black Diamond Levels
Were you involved in Beginning Strings in the past? If you have achieved placement in the Blue Square (intermediate) or Black Diamond (advanced) levels of the Beginning Strings program, you will have your own class specifically for experienced string players. Not sure if you should be in the beginning class or a higher level? All students will be assessed during the first week of class and placed into the appropriate class division.
If you've worked hard enough to be in the Double Black Diamond group, ask us about chamber music opportunities designed specifically for you!

After-School Program Cost: $275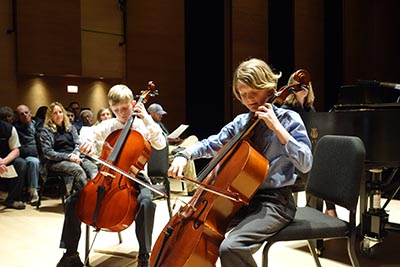 Cost includes 20-plus weeks of classes, a starter supply pack (rosin, shoulder rest or rock stop, finger tapes, Essential Elements method book, music stand; students who have been in the Beginning Strings program in the past will receive an intermediate/advanced starter supply pack specific to the needs of the Blue Square/Black Diamond levels), minimum of six private lessons (lessons alone are valued at $240), two concerts (a third concert will be a solo recital to which select students will be invited to perform), and snacks during classes and at the final showcase concert. Students are responsible for the cost of an instrument (either a rented or purchased violin/viola/cello). This program is heavily subsidized by the AMFS and generous donors, and the actual program cost is more than $700 per student.
Please note that this is a 20-plus-week program and that students should commit to the entire series of classes. Obviously, some conflicts could arise, but in order for students to learn to play a string instrument, they need to be in class as much as possible.
The AfterWorks Refund Policy is as follows: Once a student has applied and paid the tuition for an AfterWorks program (Beginning Strings, Lead Guitar, or Maroon Bel Canto Children's Chorus), the following policy will apply to tuition refunds if that student chooses to leave the AfterWorks program:
Before first class/rehearsal: full tuition refund
Between first and third class/rehearsal: half tuition refund
After third class/rehearsal: no refund

Late Registration Fee: $50
Students who complete the Beginning Strings application form after 5 pm on Friday, October 6 will be assessed a Late Registration Fee of $50 to cover late application processing and ordering of additional student supplies.
Scholarship
A limited number of instrument scholarships remain. Tuition scholarships are awarded on a rolling application basis, and no tuition scholarships remain as of October 2, 2017. Payment plans are available, and can be requested during the application process by clicking to receive scholarship information.
How to Register
Registration for Beginning Strings is now closed for the 2017-2018 school year. Please join us for the Beginning Strings Showcase performance on Friday, May 4th in Harris Concert Hall.
About AfterWorks
The Aspen Music Festival and School's AfterWorks program offers after-school, in-school and summer programming, in collaboration with Valley schools, to support music education. These programs are designed to complement the quality music instruction students receive from schools and private instructors.
---
To learn more, please contact:
Katie Hone Wiltgen
Director of Education and Community Programming
970 205 5055
khonewiltgen@aspenmusic.org