Lead Guitar
Complete classical guitar instruction in after-school classes.
Schools | Cost and Scholarship | Apply
Program Information –
Information for the 2018-19 school year will be available in late August 2018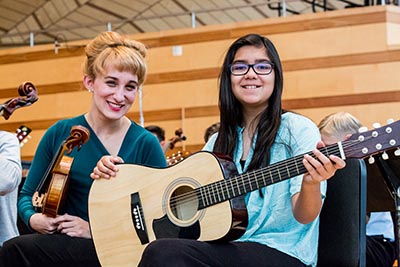 Lead Guitar is an independent 501c3 non-profit organization and an affiliate program of the University of Arizona College of Fine Arts' family of outreach programs. Lead Guitar is proudly offered here in the Roaring Fork Valley in collaboration with the Aspen Music Festival and School. Founded by master guitarist Brad Richter, Lead Guitar uses music and an instrument to which young people relate very well. Lead Guitar students learn classical guitar technique, music reading, theory, performance skills, and ensemble playing in twice-weekly group classes, through which they develop their self-discipline, self-esteem, and the ability to work as a team—attributes that help them realize success throughout their lives. The Lead Guitar curriculum emphasizes music reading, allowing students to become independent musicians, capable of taking their guitar skills to any style of playing. The program is designed for students in grades 4 and up (at Basalt Middle School, preference in the program is given to 5th-8th grades; For Lead Guitar at BMS, 4th-graders are encouraged to apply but will only be accepted on a space-available basis).
New This Year!: Students who have been involved in Lead Guitar for at least three previous school years and have reached an advanced level of performance capability (must be capable of playing Andante [Method Book II, page 17] accurately at quarter note = 100, or beyond in Method Book II) are eligible to participate in our new private lesson program, designed specifically for our most advanced Lead Guitar students. For all of the Lead Guitar students who are now in high school, have been working in classical guitar private lessons or through the P.A.L.S. program, and/or have moved past the level of the traditional Lead Guitar classes at your schools, this is your chance to continue progressing in advanced classical guitar performance through a series of private lessons where you'll work with the AMFS's Lead Guitar ArtistYear Teaching Fellow, Will Brobston. Not all eligible students will be selected to participate. Please contact Katie Hone Wiltgen at khonewiltgen@aspenmusic.org for additional details
Schools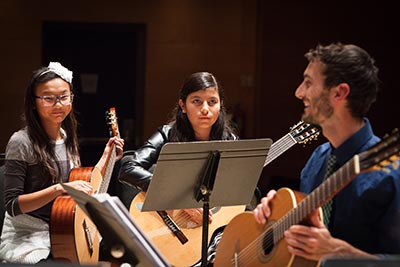 The Lead Guitar program is offered as an after-school program at four schools during the 2017-2018 school year: Aspen Middle School, Basalt Middle School, Carbondale Community School, and Two Rivers Community School. Aspen Community School, and St. Stephen Catholic School teach the Lead Guitar program as part of their in-school music curriculum.
Aspen Middle School
Mondays and Wednesdays, starting October 9
Mondays, 3:40-4:25 pm for Beginning Students; 4:25-5:10 pm for Advanced Students
Wednesdays, 2:15-3:00pm for Beginning students; 3:00-3:45pm for Advanced students
Taught by Harris Jackson

Basalt Middle School
Tuesdays and Thursdays, starting October 12

3:45-4:30 pm for Beginning Students and 4:30-5:15 pm for Advanced Students
Taught by Nick Lenio


Carbondale Community School
CCS Beginning Students Class Schedule
CCS Advanced Students Class Schedule
Mondays and Wednesdays for Beginning Students, starting October 9, 3:35-4:20 pm
Tuesdays and Thursdays for Advanced Students, starting October 10, 3:35-4:20 pm
Taught by Matt Haslett


Two Rivers Community School
Mondays and Thursdays, starting October 12
3:45-4:30 pm for Beginning Students; 4:30-5:15 pm for Advanced Students
Taught by Ashton Taufer

Classes
Students in their first year of Lead Guitar instruction participate in the beginning class at their schools. Students in their third year of Lead Guitar or beyond (who achieved at least intermediate-level ability in playing in the past) participate in the Advanced class at their schools. Students in their second year of Lead Guitar instruction should attend both Beginning and Advanced class for the first week, until the instructor determines whether that student should be in the Beginning or Advanced class, unless you already have word from your Lead Guitar instructor as to which class is best for you. All students will be assessed during the first week of class to ensure they are placed into the correct level of class.
After-School Program Cost: $200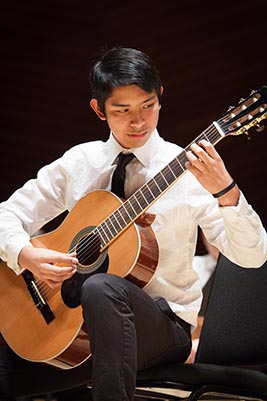 Cost includes twenty weeks of classes (two classes per week!), two concerts, snacks during each class, dinner before the final Showcase concert, and all music. This program is heavily subsidized by the AMFS and generous donors, and the actual program cost is more than $700 per student.
Please note that this is a twenty-week program and that students should commit to the entire series of classes. Obviously, some conflicts could arise, but in order for students to learn classical guitar, they need to be in class as much as possible.
The AfterWorks Refund Policy is as follows:
Once a student has applied and paid the tuition for an AfterWorks program (Beginning Strings, Lead Guitar, or Maroon Bel Canto Children's Chorus), the following policy will apply to tuition refunds if that students chooses to leave the AfterWorks program:
Before first class/rehearsal: full tuition refund
Between first and third class/rehearsal: half tuition refund
After third class/rehearsal: no refund
Late Registration Fee: $50
Students who complete the Lead Guitar application form after 5pm on Friday, October 6 will be assessed a Late Registration Fee of $50 to cover late application processing and ordering of additional student supplies.
Guitars
Students in Lead Guitar classes are required to have their own classical, nylon-string guitar. All students should have a guitar ready for the first day of Lead Guitar class. In order to procure a guitar, students have several options:
1. Purchase a guitar through AMFS at a heavily discounted Lead Guitar-student rate. There are three guitar options for purchase:
Yamaha CGS103All Guitar (3/4-size guitar - for our youngest, smallest Lead Guitar students only), electronic tuner, and soft case: Lead Guitar price = $112

Yamaha CGS103All classical guitar is a great instrument for small students learning the ins and outs of classical guitar technique. The guitars feature a spruce top, Mercanti back and sides, a nato neck, and a rosewood bridge and fingerboard. Yamaha is famous for producing great-sounding budget classical guitars, and the CGS instruments will reward the learner with years of musical pleasure.
This 3/4-size guitar is for our youngest, smallest Lead Guitar students only. Typically only a few very small 4th-grade students require a 3/4-size guitar.
MSRP: $211

Yamaha C4011 Full Size Guitar, electronic tuner, and soft case: Lead Guitar price = $120

Beginners will appreciate the level of quality found in the C4011 classical guitar. This quality instrument delivers outstanding cost performance with exceptional playability and superb tone. The C4011 might be one of Yamaha's most inexpensive full-size classical models, but its quality and tone are outstanding. A real bargain for beginners.
MSRP: $221

Yamaha CG102 Guitar, electronic tuner, and soft case: Lead Guitar price = $154

Drawing upon the vast knowledge and techniques of our master craftsmen, the CG series nylon string guitars were developed to deliver top level sound quality, performance and playability. Yamaha's most reasonably priced classical guitar offers a rich tone that beginners will find inspiring. This is a full-sized classical guitar with a spruce top and nato back and sides. It features a rosewood fingerboard and a 52 mm nut width for traditional classical play. This would make an excellent choice for the young guitarist seeking to improve his or her nylon-string skills or even for the seasoned player looking for an inexpensive guitar to always have within reach.
MSRP: $312

2. Rent a guitar from the AMFS: A limited number of guitars are available to rent at the rate of $15 per month, for six months.
3. Apply for an instrument scholarship to use an AMFS-owned guitar for the school year: A limited number of scholarship guitars are available to students who demonstrate significant financial need.
4. Bring your own guitar: Students may bring their own guitars, but they MUST be classical guitars (have nylon strings). Not sure if your guitar is classical or acoustic? Watch this video, check the strings (classical guitars have three strings that look like clear plastic (nylon) while acoustic guitars have all metal strings), or take the guitar to Glenwood Music and have them identify it.
Scholarship
No tuition scholarships remain as of October 3, 2017. Tuition scholarships are awarded on a rolling application basis, and all scholarships have now been allocated.
Payment plans for Lead Guitar tuition are available, if necessary, and can be requested during the application process by opting to receive scholarship information.
A limited number of instrument scholarships are still available to students who are unable to afford the cost of purchasing or renting a guitar.
How to Register
Registration for Lead Guitar is now closed for the 2017-2018 school year. Please join us for the Lead Guitar Showcase performance on Thursday, April 19th in Harris Concert Hall.
About AfterWorks
The Aspen Music Festival and School's AfterWorks program offers after-school, in-school and summer programming, in collaboration with Valley schools, to support music education. These programs are designed to complement the quality music instruction students receive from schools and private instructors.
---
To learn more, please contact:
Katie Hone Wiltgen
Director of Education and Community Programming
970 205 5055
khonewiltgen@aspenmusic.org