Andrew Genemans, bassoon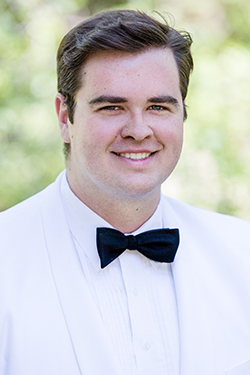 Growing up with band directors for parents, twenty-five-year-old Andrew Genemans tried out a variety of different instruments at a young age: trumpet, euphonium, French horn, cello, double bass, saxophone—you name it. But in middle school—the quintessential time for finding one's true self—he stumbled upon the instrument that finally felt just right: bassoon.
"It was really unique, and at that point in your life, in seventh grade, you're feeling a lot of feelings," says the Akron, Ohio, native. "You're starting to change quite a lot, and I felt really connected to this instrument that was very strange, very weird, maybe not fitting into the social norms all the time. I was really drawn to it."
In fact, it was love at first sight. Genemans says he was initially intrigued by the instrument because "it looks like a bazooka," a natural draw for a twelve-year-old boy. But the sound of the instrument is what has kept him hooked for all these years.
"I loved the uniqueness of the sound; there's no instrument that sounds similar to it at all," he says.
Now, Genemans is spending his third summer at the AMFS playing both bassoon and contrabassoon and studying with AMFS artist-faculty member Per Hannevold. He's a contrabassoon fellow on a Harry and Effie Lerner Trust Scholarship as well as a Maestro's Circle Scholarship, and he's especially loving his time playing in the Aspen Festival Orchestra.
Ironically, Genemans says when he first started out on bassoon, he wasn't thinking of playing in orchestra; he was just taking his time discovering his new instrument.
"At that point, my parents wanted me to fall into the instrument, to fall in love with it on my own," he says. But over time, playing in orchestra became one of his favorite aspects of being a musician. "In AFO, the level of musicianship is just top notch. It's hard to believe it's not a professional orchestra because it is so high quality. We did Shostakovich's Eighth Symphony [on July 17], which is just the darkest thing you could possibly imagine, and I felt like we were really able to do a difficult piece like that justice. And the amount of camaraderie in the group is also very high."
Genemans earned his master's degree from Carnegie Mellon University in 2015, where he studied with AMFS artist-faculty member Nancy Goeres, and he just finished an advanced music studies program there this year. Now, he freelances and substitutes with several professional orchestras, including the Pittsburgh Symphony Orchestra and the Philadelphia Orchestra. Although his career in music is off to a fruitful start, his path to this profession wasn't always clear.
"When I was in high school, I was told by certain people that there is no career path for me because there are no jobs in music," he says. So for the first two years of his undergraduate career, Genemans studied music therapy. But after witnessing a particularly moving Cleveland Orchestra concert during his sophomore year, he knew he had to pursue a career as a professional musician.
"Ever since then, there are moments when it's reaffirmed," he says. "I think the most recent one was when I got to play with the Philadelphia Orchestra in a performance of Mahler's Eighth Symphony. I sat there—there were 500 people on stage—with one of the greatest orchestras in the world, and I was like, 'I made the right choice.'
"What I love about being a musician is that I feel like my job is literally freedom," he continues. "You get to explore your emotions in a most profound way with an audience watching, and you get to share that moment with them. Music is freedom to me."