Dennis Caravakis, double bass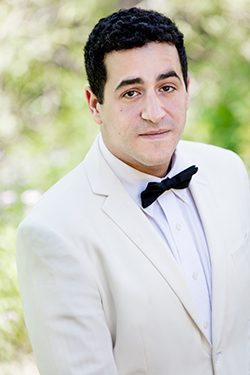 Dennis Caravakis can remember like it was yesterday the moment he fell in love with the double bass. He was twelve or thirteen years old, and he'd been playing the instrument for about three years. At the time, he was a member of the Bridgeport Youth Symphony in his hometown of Fairfield, Connecticut, and he was also playing on a local baseball team.
During one of his games, all he could think about was Wagner's Rienzi Overture he'd played earlier in the day.
"I was standing at third base, and I just couldn't get the prayer theme from this overture out of my head," Caravakis says. "All I was thinking about was how much I'd have rather been there, even though I loved baseball so much at the time. I was intoxicated by that experience I'd just had earlier in the day."
From that moment on, the twenty-five-year-old knew he was going to chase a career in music. He earned his bachelor's degree from the Peabody Institute, and he's graduating with his master's degree from the University of Southern California's Thornton School of Music. He freelances for orchestras around the Los Angeles area, and he's already a fulltime member of the San Bernardino Symphony, a position he landed in his first year of graduate studies.
Part of his hard work to get where he is today has involved studying in Aspen. This is Caravakis's fourth summer with the Aspen Music Festival and School, where he's studying on a Linda and Dennis Vaughn Scholarship and double bass fellowship with artist-faculty members Christopher Hanulik and Bruce Bransby. He says his experience in the Aspen Festival Orchestra sitting next to Hanulik, who is the principal double bassist in the Los Angeles Philharmonic, has been one of the most important aspects of his education.
"To see how the principal of a major orchestra commands himself and his section—and I've been fortunate enough to be assistant principal [in AFO] the last two summers and sit next to him—has made me a better player," he says. "What it's done is shown me where my focus should be at all times. Without him even saying a word, I know where his ears are in an orchestra, and that level of immersion is something I'm constantly trying to improve upon. He's really something else; that's why I keep coming back."
Learning how to play in an orchestra involves learning your instrument's role, and the part the double bass plays is one of the reasons Caravakis loves it so much. He says it's the foundation of the orchestra, and that means he's constantly interacting with every other instrument section. Sometimes he's leading, sometimes he's following, but he's always listening.
"There's something about following someone who is feeding you something in the music; it's a great feeling," he says. "It feels like actual music making as opposed to just playing what's on the page."
He also enjoys being a member of the double bass section because of the kinds of people the instrument tends to attract.
"It is a diverse group, but the one common thread I've always found is a sense of community," he says. "There's something about bass players where we bond together. The ego is there, but it's not offensive within the community. It's really nice being a part of that, and it fits our role in the orchestra so well. It's about inclusion as opposed to being the best."