Gabriel Martins, cello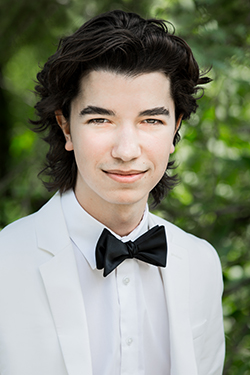 Eighteen-year-old Gabriel Martins first began playing the cello, at his parents' encouragement, when he was just five—but it wasn't until years later that his eyes truly opened to the
limitless possibilities of a life in music.
"I guess I didn't take it very seriously until [the age of] twelve or thirteen," says Martins, who hails from Bloomington, Indiana. "I started entering a few competitions and that was the first opportunity where I could see what you could do with this instrument, and see other people at a higher level than I was, and what I could aspire to."
The cello had originally been chosen for Martins by his mother but, as he entered his teen years, he began finding more and more reasons of his own to love the instrument.
"I think the cello, as opposed to other instruments, really has the opportunity to phrase every note just the way that you want it, or just the way that the music asks for it," he explains. "You have so many different tools that you can use; just with the bow there are infinite possibilities. Even in intonation and vibrato—you can't do anything like that on a piano, for instance.
"And the sound of the instrument, you can feel it through the floor and through your body,
and that really resonates with me."
As Martins became more interested in pursuing a career in music, he dedicated himself more fully to his hometown cello studies. "I studied for over twelve years with my exceptionally great mentor, Susan Moses, and I really owe my life, artistically as well as personally, to her," he notes.
He also began thinking about his next steps, and became interested in working with AMFS artist-faculty member Brinton Smith. The opportunity to study with Smith is what led Martins to Aspen last year, for a memorable first summer at the AMFS.
"Aspen is a very peaceful place to sort out your musical beliefs and style, and I really was able to focus, as opposed to the rest of the year, when you have a lot of distractions between school or other things," he says. "You can really immerse yourself in music, and I thought that opportunity was invaluable. I really wanted that again."
So, Martins is back, having just wrapped up his freshman year at USC's Thornton School of Music. He's again studying with Smith, as well as artist-faculty member Richard Aaron, and is a recipient of an Allen and Kelli Questrom Foundation Scholarship.
He's also a member of the Aspen Festival Orchestra, which allows him the experience of performing side by side with brilliant professional musicians as well as other exceptionally talented students.
"The size of the orchestra is incredible and the sound that it's able to produce when you have everybody playing—that's really something incredible, too," says Martins. "There are very few places in the world where you can come as a student and make music at such a high level and with such great colleagues."
Ultimately, that's all Martins hopes for, as he looks to his future: the opportunity to play great music, in any setting, with great musicians. What began because of his parents has now become entirely his own.
"It just feels right to me," he says of the cello. "It feels like there's not really anything else that I could do and be satisfied with in my life."