Jessy Je Young Kim, violin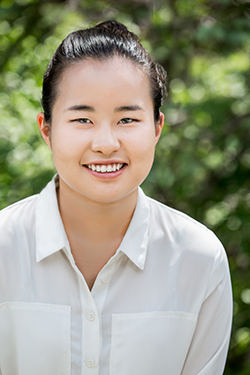 Aspen Music Festival and School student Jessy Je Young Kim didn't grow up in a family of musicians but she was still surrounded by music from a young age, thanks to her mother's prescient efforts to amass a collection of classical recordings.
"My mother always had a collection of CDs, and I think she just put them on randomly... because she thought it would be helpful for childhood education," recalls Kim, now twenty-two years old and in her fourth summer studying in Aspen. "So I really loved classical music from when I was younger, but nothing really stuck with me—until I heard a recording of David Oistrakh playing the Tchaikovsky Violin Concerto. That was the turning point for me. It was like, 'I need to play violin!'"
Kim had already been playing piano for three years when she decided to pick up the violin at age ten, and though she still continued and enjoyed her piano studies, there were many early hints that the violin would become her primary passion.
"It was more of a hobby at first, but I always went to it after school," says Kim. "I would always look for the violin, and I was always drawn to the sound and looked forward to playing it every day. My parents enrolled in me in tutoring sessions for various subjects like English, French, and math, and nothing really interested me to go further. But with violin, it was like I always wanted to learn more and was very curious."
Much of that had to do with Kim feeling that the violin could connect to a part of her that no other subject or instrument could.
"I've always loved listening to vocal music as well, but I'm not a good singer; I don't have the voice for it," she explains. "But violin comes very close, I think. When I talk, that's my voice—but when I play my violin, that's like the voice of my soul. I feel like I can express myself fully through playing the violin."
Today, Kim is a recent graduate of the Glenn Gould School at the Royal Conservatory of Music in Canada, where she studied with Barry Shiffman and Paul Kantor (also an AMFS artist-faculty member). She earned her Bachelor of Music there earlier this spring, and in the fall will begin studying with Ani Kavafian at Yale School of Music.
In the meantime, Kim is spending her summer at the AMFS, where she is a recipient of a New Horizons Fellowship and is again working with Kantor. She's also a member of the Aspen Festival Orchestra, which she credits with helping her establish new goals for her career.
"The AMFS has been really inspirational in that way," says Kim. "I never really had a love for playing in orchestra until I came here. I was in AFO last year, as well, and playing with all those great faculty members and musicians was really inspiring. The fact that eighty people can come together to play one piece and create a masterpiece… It's the feeling of working together that's enjoyable to me, so I really want to pursue [orchestra] as my career."
Performing as part of a high-level orchestra also gives Kim the opportunity to share the stage with phenomenal guest artists, as she does this week when superstar and AMFS alumna Midori takes on Tchaikovsky's Violin Concerto alongside the AFO.
"The way she plays, you can see all the care and preparation [she puts in]," says Kim of Midori. "She's been one of my idols since I was growing up, so I am really excited for the concert!"