Johanna Gruskin, piccolo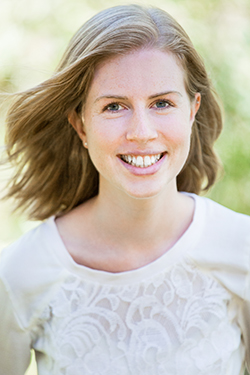 Despite growing up in a musical household, with a flutist for a father and a pianist for a mother, Aspen Music Festival and School student Johanna Gruskin never really intended for music to become her career.
"My parents wanted me to know music and study music, but I don't think they were particularly pushing me to pursue it as my career," says Gruskin, who took after her parents by first studying the piano before making the permanent switch to flute in the seventh grade. "And I probably didn't start thinking about it seriously until maybe my sophomore or junior year in high school, when I started playing in the youth orchestra in my hometown [of Duluth, Minnesota]."
The orchestra setting appealed to Gruskin, who found herself drawn to both the flute's orchestral repertoire and the collaborative music-making experience. Today, the twentyfour- year-old flutist has her sights set on landing a professional orchestra position, having already earned her bachelor's and master's degrees from the Eastman School of Music and the New England Conservatory, respectively.
Achieving that goal is aided by also knowing the piccolo, which Gruskin plays in today's Aspen Festival Orchestra performance of R. Strauss's Till Eulenspiegel's Merry Pranks. This is her third summer studying in Aspen and, this season, she's the AMFS's piccolo fellow and a recipient of an LLWW Foundation Scholarship.
"I specifically wanted to get more experience playing the piccolo in orchestra," says Gruskin about why she was eager to return to the AMFS, where she studies with artist-faculty member Mark Sparks. "I think that every flutist should play piccolo because, even if you're a principal flutist, you never know when something is going to pop up and you're going to need to play it."
Gruskin describes the piccolo as, basically, a smaller flute that is an octave higher and quite a bit louder. Yet though the two instruments are similar, there are some key differences that can make the piccolo a challenge when compared to its larger sibling.
"One piccolo player I studied with said, 'You're either bored to death or scared to death,'" says Gruskin with a laugh. "And I think that's true because there is a lot of sitting around as a piccolo player; composers usually use piccolo only for very specific moments. You don't play for most of the piece—but when you do play, it's very exposed. The embouchure is very small, everything is very small, so you have to get things exactly in the right place and if you are just a tiny bit off it's really noticeable."
For that reason, she says, there is a split between flutists who enjoy the piccolo and those who dislike playing it. Gruskin happens to fall into the former category, noting that she'd love to play either instrument professionally and is taking auditions for both.
Until then, she's continuing her studies by working toward an Artist Diploma from the Colburn School and spending the summer at the AMFS, where playing in AFO gives her a taste of what her future career could be like.
"In most school orchestras we do maybe four concerts a semester, and here in Aspen we do eight concerts in eight weeks," says Gruskin. "This is what a professional orchestra schedule is like, but for those of us in school it's really jarring to have just four rehearsals four days before a concert.
"But one of the coolest things about Aspen is sitting next to the faculty in the orchestra, and hearing them play every day. So I think it's more inspiring than it is nerve-racking!"