Sarah Scruby, oboe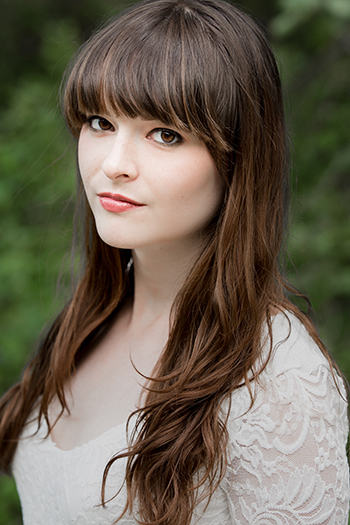 Twenty-six-year-old Aspen Music Festival and School student Sarah Scruby can trace her relationship with the oboe back to one middle-school decision: should her elective be band class or home economics?
Scruby chose band—and then the oboe chose her.
"A lot of people start on the flute or clarinet, but I had braces and headgear and all that stuff, so the oboe's double reed was the only mouthpiece I could make a sound on," says Scruby. "I didn't really have too much of a classical music background prior to that, so I don't have any particularly striking memories of being like, 'Oh, that's the oboe! I like that!' It was kind of just picked for me."
It didn't take long, however, for Scruby to realize there were some definite perks to being in the oboe section.
"We had a lot of solos as opposed to the other band instruments, and we kind of got special treatment because nobody else wanted to play the oboe because the reeds are such a pain. But I took to it right away, with the reeds and instrument. I started getting good at it very quickly, and seeing improvement and progress in a short period of time was really encouraging—so I went on from there."
Scruby, who grew up in Jacksonville, Florida, was twelve years old when she picked up her instrument for the first time. Within just a couple years, her interest in music had gotten serious enough that she transferred to a school for the arts to begin her sophomore year of high school.
"I was doing all-state band and orchestras and I was getting positions in those groups every year, and that was really exciting for me. So I thought, 'I want to make this my life and see what happens,'" says Scruby. The switch to a new school meant a commute of an hour and a half every day, but it was worth it to be around other talented, like-minded students who also wanted to work toward careers in the arts.
After she finished high school in Jacksonville, Scruby headed to Florida State University for her Bachelor of Music in oboe performance. Then, in 2014, she followed that up with a master's degree from the Manhattan School of Music. Now she splits her time between Florida and New York, taking as many freelance opportunities as possible with both the Jacksonville Symphony and the New York Philharmonic, and preparing for auditions that she hopes will lead to a full-time orchestra position.
In the meantime, Scruby is keeping her skills sharp by studying at the AMFS, where she's a recipient of a Bowers Noyce Oboe Fellowship and studying with artist-faculty members Elaine Douvas and Richard Woodhams. It's her first summer in Aspen, and she'll spend it as part of the Aspen Festival Orchestra. Although she's already had many opportunities to perform as a substitute in professional orchestras, Scruby says she still finds it intimidating to perform while sitting next to artist-faculty she's wanted to study with for so long. On the other hand, the AFO offers her a unique opportunity to perform at a high level while still engaging in an instructive dialogue.
"If you have questions, you don't have to be afraid to ask," says Scruby of the AFO experience. "I think that's the best way to improve, to say, 'If I'm doing something [wrong], please let me know so I can change it.' Or, 'How do I do this? What is your suggestion on this phrase?' I think I'm going to learn so much. When I come out of it, I'm just going to be 100 percent better as a musician and a person."