Aspen Opera Theater Announcement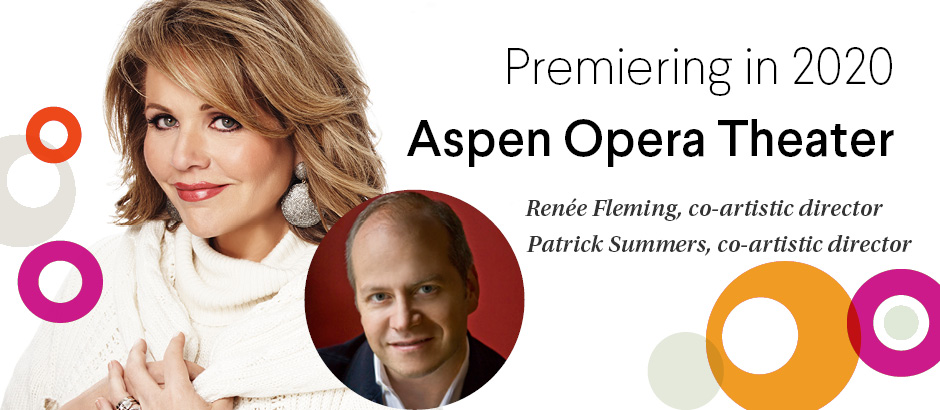 RENÉE FLEMING AND PATRICK SUMMERS TO LEAD NEW OPERA PROGRAM IN ASPEN

ASPEN OPERA THEATER and VocalARTS, WITH FLEMING AND SUMMERS AT HELM, LAUNCHES IN 2020

Fleming takes on her first major educational post, designing and co-directing this program at an institution that was pivotal in her own development as a young singer.

Program provides unique combination of professional performances, intensive coaching and instruction, and one-on-one mentorship.

----------------------------

READ THE NEW YORK TIMES ARTICLE HERE.

In 2020, the Aspen Music Festival and School will launch the new Aspen Opera Theater and VocalARTS under the leadership of co-artistic directors Renée Fleming and Patrick Summers. The program provides a unique and premier-level opportunity for developing opera singers by combining performance with intensive individual instruction and mentorship with two of opera's leading performing professionals.

The new program builds on the stellar platform of the Aspen Opera Center, led for more than 30 years by Edward Berkeley, who will continue on as stage director. All aspects of the eight-week summer program, continuing elements as well as new, are meticulously designed to train high-level young singers and vocal collaborative pianists for a career in opera and concertizing. Fleming and Summers, along with their hand-picked team, will work with all participants, and they will directly and intensively mentor the program's top fellows.

"We are proud and honored that two of opera's greatest minds and talents have chosen to lead this program in Aspen," says Aspen Music Festival and School President and CEO Alan Fletcher. "The collective wisdom, experience, savvy, and sheer brilliance among the two of them, and their assembled team, including Ed, will offer an unparalleled educational experience to young singers pursuing a career in opera, and the combination of intensive education and mentorship with professional performance captures the very essence of our Aspen program."

"At the start of my career, I was incredibly fortunate to be trained at the Aspen Music Festival and School," says Fleming. "I feel just as lucky to have the chance to return to this beautiful place and share all I've learned in the intervening years with the best emerging talent in opera. And I'm thrilled to be building this program with Patrick Summers, with whom I have performed in America's great opera houses, from the Met to San Francisco, Houston, and Lyric Opera of Chicago, as well as on concert stages from Carnegie Hall to the Châtelet in Paris."

Says Summers, "I'm overjoyed to accept this privilege with my treasured colleague Renée. We want to give a diverse group of gifted young artists a broad palette to help them find the tools they will need for meaningful careers in opera. This greatest of arts is rapidly transforming, and the young artists are the future of it, the stars of tomorrow on and backstage, directing, conducting, managing, and creating. Helping them dream their futures is a thrill. We want to integrate opera into Bob Spano's amazing pedagogical and artistic vision for the Festival, a combination of inspirations that has drawn a faculty that has no equal in the United States, and we can't wait to work with all of them. I'm eager to pass on the diverse legacies Renée and I have been so fortunate to mature within, and to build on the outstanding work Ed Berkeley has achieved so elegantly for decades."

"I look forward to further developing the Aspen Opera Center with Renée and Patrick," comments Berkeley. In Aspen in the early 1980s I had the real pleasure of directing Renée in several productions—sitting on rocks, studying language, poetry and then moving rich text into music: truly an exhilarating time."

The application deadline for aspiring participant singers is September 25; auditions will be held in October in cities around the country. Approximately 14 singers will be personally chosen by Fleming as the Renée Fleming Artists and will work closely with Fleming individually.

Besides individual instruction in technique, etc., the young singers and pianists will gain deep knowledge about the nuts-and-bolts of life as a professional opera singer, the intricacies of the business, and receive specific coaching on auditions, resume-building, networking, and even financial planning for the self-employed.

Each summer the program will mount two fully staged professional productions presented in the historic 450-seat Wheeler Opera House. In 2020, the singers and pianists will participate in Mozart's "The Magic Flute" and Ricky Ian Gordon's "The Grapes of Wrath." Students will also perform and be coached in weekly opera theater scenes master classes.
The Aspen Opera Theater and VocalARTS's core team is Renée Fleming and Patrick Summers, co-artistic directors, Edward Berkeley, stage director, Rachelle Fleming, musical theater instructor, Robert Morrison, head coach, Kenneth Merrill, senior coach, William Billingham, senior coach, and voice faculty members Vinson Cole, Elizabeth Hynes, Stephen King and Carol Vaness.

----------------------------

RENÉE FLEMING
Soprano Renée Fleming is one of the most highly acclaimed singers of our time, performing on the stages of the world's greatest opera houses, theaters, and concert halls. Winner of the National Medal of Arts as well as four Grammy Awards, she has sung for momentous occasions including the Nobel Peace Prize ceremony and the Diamond Jubilee Concert for Queen Elizabeth II at Buckingham Palace. In 2014 Renée became the first classical artist ever to sing "The Star-Spangled Banner" at the Super Bowl. Renée's upcoming tour schedule includes concerts in Beijing, Tokyo, Paris, Vienna and New York. In June, she made her London musical theater debut in "The Light in the Piazza," and her new album "Lieder: Brahms, Schumann & Mahler" was released by Decca the same month. This spring, Renée appeared opposite Ben Whishaw in "Norma Jean Baker of Troy," to open The Shed in New York City. Renée earned a Tony Award nomination for her performance in the 2018 Broadway production of "Carousel." She is featured on the soundtrack of the 2018 Best Picture Oscar winner "The Shape of Water." As artistic advisor to the John F. Kennedy Center for the Performing Arts, Renée spearheads a collaboration with the National Institutes of Health focused on music, health and neuroscience. In 2010, Renée was named the first-ever creative consultant at Lyric Opera of Chicago. Among her awards are the Fulbright Lifetime Achievement Award, Germany's Cross of the Order of Merit and France's Chevalier de la Légion d'Honneur.

As a student, Fleming attended the Aspen Music Festival and School, where she studied with Jan DeGaetani. She was also directed by Edward Berkeley (who is to be stage director in the new Aspen Opera Center and VocalARTS) when she appeared in the role of Anne Sexton in Conrad Susa's "Transformations." In Aspen, Fleming gave her first performances as the Countess in Mozart's "The Marriage of Figaro," the role in which she later made most of her major opera house debuts. She also performed scenes from "Der Rosenkavalier" during her time at Aspen, and the Marschallin in that opera has been one of her calling-card roles at opera houses around the globe. www.reneefleming.com
----------------------------

PATRICK SUMMERS
Patrick Summers is currently artistic and music director of Houston Grand Opera. This past year, he conducted the world premiere of "The Phoenix" by Tarik O'Regan and John Caird at the Houston Grand Opera, as well as productions in Houston of "The Flying Dutchman" and Daniel Catán's "Florencia en el Amazonas" and Donizetti's "La Favorite" at Barcelona's Gran Teatre del Liceu. He also led the National Symphony Orchestra, in collaboration with Wolf Trap Opera, in a program of Wagner Ring selections and appeared in concert with the Aspen Philharmonic Orchestra. Summers has fostered and led more than 20 world premieres, collaborating with many of today's most prominent and performed composers, including Jake Heggie, Carlisle Floyd, Christopher Theofanidis and Philip Glass. Summers conducts a wide range of repertoire, from Baroque to bel canto to German Romantic, and he has appeared with the Metropolitan Opera, Los Angeles Opera, Lyric Opera of Chicago, the Dallas Opera, Deutsche Oper Berlin, Rome Opera, Welsh National Opera, Norwegian Opera and Opera Australia. From 2009 to 2016, he served as Principal Guest Conductor of San Francisco Opera.

----------------------------
EDWARD BERKELEY
Edward Berkeley is a long-term faculty member at Juilliard and is founding artistic director of the Willow Cabin Theater, where he directed the Tony- and Drama Desk- nominated play "Wilder, Wilder, Wilder" and others including "Who Will Carry the Word?" (Best Director). He teaches Shakespeare at both Circle in the Square Theater School and Pace University, and has also taught at the Metropolitan Opera's Lindemann Young Artists Program, Princeton, Williams, and Carleton. Berkeley has directed productions at Juilliard, the NY Shakespeare Festival, Dallas Opera, Long Beach Opera, and Houston Grand Opera, where he has been the drama coach. He has also worked with the New York Philharmonic, the Atlanta Symphony, and the Baltimore Symphony. In addition, he regularly directs opera for the Boston Youth Symphony Orchestras and in thirty-plus years as director of the Aspen Opera Center, has directed many classics and new works. He recently directed "Macbeth" in Marseille and at Château de Lourmarin.

----------------------------
ABOUT THE ASPEN MUSIC FESTIVAL AND SCHOOL
The AMFS is the United States' premier classical music festival, presenting more than 400 musical events during its eight-week summer season in Aspen. The organization draws top classical musicians from around the world to this Colorado mountain retreat for an unparalleled combination of performances and music education. Many events are free, and seating on the David Karetsky Music Lawn and in the Music Garden is always free.

Nearly 700 music students from 40 U.S. states and 34 countries come each summer to play in five orchestras, sing, conduct, compose and study with 200 renowned artist-faculty members. Students represent the field's best young talent; many have already begun their professional careers, and others are on the cusp.

Renowned alumni include violinists Joshua Bell, Sarah Chang, Cho-Liang Lin, Robert McDuffie, Midori, Nadja Salerno-Sonnenberg and Gil Shaham; pianists Ingrid Fliter, Orli Shaham, Conrad Tao, Yuja Wang, Wu Han and Joyce Yang; conductors Marin Alsop, James Conlon, Leonard Slatkin, Robert Trevino and Joshua Weilerstein; composers William Bolcom, Philip Glass, David Lang, Augusta Read Thomas, Bright Sheng and Joan Tower; singers Jamie Barton, Benjamin Bliss, Sasha Cooke, Renée Fleming, Isabel Leonard, Golda Schultz, Dawn Upshaw and Tamara Wilson; cellists Lynn Harrell and Alisa Weilerstein; guitarist Sharon Isbin; performer Peter Schickele; and bassist Edgar Meyer.