A Recital by Augustin Hadelich violin
Back To Calendar
With special thanks to Ruth Turnquist Carver
Reserved Seating
Please Note:
Tickets will remain in cart for 30 minutes.
J. S. BACH: Sonata No. 1 for Unaccompanied Violin in G minor,
BWV 1001
PERKINSON: Blue/s Forms
PAGANINI: Caprice No. 9 in E major: Allegretto from 24 Caprices,
op. 1
PERKINSON: Louisiana Blues Strut: A Cakewalk
J. S. BACH: Partita No. 2 for Unaccompanied Violin in D minor,
BWV 1004
The Milwaukee Shepherd Express conjectured that he "well may be the best violinist in the world. [His] gorgeous sound is ample and rich always. Every detail is played with perfectly clear intent." Augustin Hadelich's astonishing technique, eloquent phrasing, and seeming effortlessness are sure to make recital one of the highlights of the season. Discover the music of the innovative African-American composer Coleridge-Taylor Perkinson whose interests spanned the worlds of jazz, dance, pop, film, television, and concert music in the second half of the 20th century.
The program is bookended by two of Bach's unaccompanied violin works including the Partita No. 2 with its remarkable and famous Chaconne. Don't miss a chance to hear this superb soloist whom the New Yorker called a "virtuoso out of the Golden Age."
Performances will be 75 minutes and there will be no intermission. Please check the "Concert Protocols" page before attending for the most up-to-date protocols.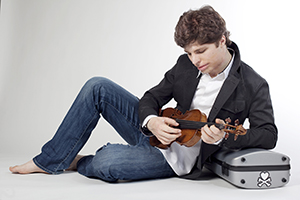 Featured Conductor & Artists
Tickets will remain on hold for 30 minutes.