A Recital by George Li piano
Back To Calendar
With special thanks to Jane and Larry Sherman
This event has
already taken place.
BEETHOVEN: 32 Variations on an Original Theme in C minor, WoO 80
BEETHOVEN: Andante in F major, WoO 57, "Andante favori"
BEETHOVEN: Piano Sonata No. 21 in C major, op. 53, "Waldstein"
---
SCHUMANN: from Waldszenen (Forest Schenes), op.82
SCHUMANN: Carnaval, scènes mignonnes sur quatre notes, op. 9
Discover the artistry of George Li, a Silver Medalist at the Tchaikovsky Competition when he was only 15. Now 24, his "staggering technical prowess, a sense of command and depth of expression" (Washington Post) have put him in great demand on concert and recital stages around the world.
Li has a particular affinity for Beethoven. As a child in Boston, piano was simply a hobby. Then at age 11, he had an epiphany while playing Beethoven's First Concerto. "All of a sudden, in the middle of the performance I felt different," he recalls. "I was kind of transported in some other reality. And I felt all these emotions within the piece and within myself. After that moment I wanted to do this for the rest of my life." This recital features works from Beethoven's middle period. Composed in 1806, 32 Variations on an Original Theme in C minor is a technically demanding piece full of melancholy and turbulence. Each variation offers a different challenge, almost like a set of etudes. Two years earlier, Beethoven wrote another set of variations originally intended to be the slow movement of his famous "Waldstein" sonata. He let the piece stand on its own and included a much shorter movement in the sonata, which was dedicated to his friend and patron Count Waldstein. The sonata dates from the same year as Beethoven's "Eroica" Symphony. It was part of a creative explosion which followed Beethoven's crisis of 1802, when he realized his deafness was permanent and incurable.
The program's second half features two Schumann works in which the composer uses pitch names as letters. The ABEGG Variations were dedicated to the possibly fictional Countess Pauline of Abegg. The first five notes of the theme are A, B♭ (B), E, G, and G. In Carnaval, Schumann evokes the people, situations, moods, and dances that one might encounter at a European grand ball, including appearances by characters from commedia del'arte. Much of the musical material of the 22 short, engaging movements derives from the name Asch, the hometown of Schumann's first fiancée. In the German musical notation system, A-S-C-H is equivalent to the notes A, E-flat, C, B-flat. It also spells out Schumann's middle initial (A for Alexander) followed by the beginning of his last name.
Find out what caused the ecstatic audience response at the 15th Tchaikovsky Competition in this evening with rising star George Li.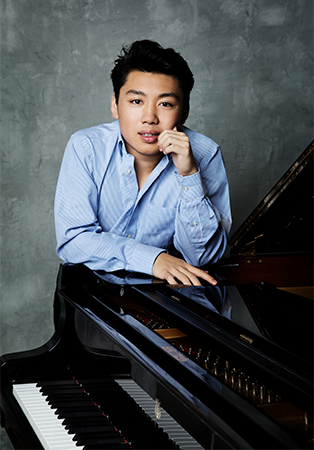 Featured Conductor & Artists