A Recital by Jeremy Denk piano
Back To Calendar
This event has
already taken place.
BEETHOVEN: Five Variations on Rule Britannia, WoO 79
JOHN ADAMS: I Still Play
BIZET: Variations chromatiques
MENDELSSOHN: Variations sérieuses in D minor, op. 54
BEETHOVEN/LISZT: An Die Ferne Geliebte, op. 98
---
SCHUMANN: Fantasy in C major, op. 17
Winner of a MacArthur "Genius" Fellowship and the Avery Fisher Prize, Jeremy Denk is one of America's best-loved pianists. The New York Times described him as someone "you want to hear no matter what he performs, in whatever combination—both for his penetrating intellectual engagement with the music and for the generosity of his playing."
Topping off Mr. Denk's wide-ranging musical journey is Schumann's ingenious and sometimes mysterious Fantasy in C, dedicated to Liszt. In a recent performance of the Fantasy, Denk kept the audience "engrossed every moment by fanastical, dreamy, and in the rousing march movement, giddily energetic flights" (The New York Times).
Be inspired by this visionary and adventurous artist!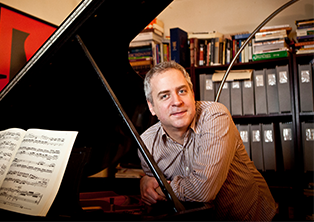 Featured Conductor & Artists