A Recital by Jeremy Denk piano
Back To Calendar
With special thanks to Denise Monteleone and Jim Martin
This event has
already taken place.
J. S. BACH: Partita No. 5 for Keyboard in G major, BWV 829
COLERIDGE-TAYLOR: They Will Not Lend Me a Child from 24 Negro Melodies, op. 59
WIGGINS: The Battle of Manassas
CHAUVIN, JOPLIN: Heliotrope Bouquet
FREDERIC RZEWSKI: Winnsboro Cotton Mill Blues from North American Ballads
BEETHOVEN: Piano Sonata No. 32 in C minor, op. 111
A musician of probing intellect and vision, winner of a MacArthur Genius Fellowship, and recipient of the Avery Fisher Prize, Jeremy Denk is a "pianist you want to hear no matter what he performs" (NY Times). This wide-ranging lineup begins with the brilliant, showy opening of Bach's Partita No. 5 and ends with Beethoven's last and most otherworldly piano sonata. Denk is fascinated by the work's "vast timeless canvas."
Denk has chosen three 20th century works for the middle part of the program, beginning with British composer Samuel-Coleridge Taylor, whose father was from Sierre Leone. Starting with an East African childless mother's lament, They Will Not Lend me a Child, he then adds Western style harmonies and counterpoint. Heliotrope Bouquet was a collaboration between the African-American composers Louis Chauvin and Scott Joplin. Frederic Rzewski uses his compositions to promote justice issues. In Windsboro Cotton Mill Blues, the rhythmic chugging that opens the piece may seem charming, but by the end it transforms into a nightmarish depiction of mill machines which crush a lilting ragtime workers' song. Hear one of the foremost performers of our time in a program of captivating juxtapositions!
Performances will be 75 minutes and there will be no intermission. Please check the "Concert Protocols" page before attending for the most up-to-date protocols.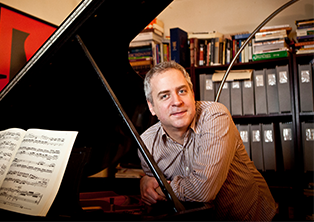 Featured Conductor & Artists