A Recital by the American String Quartet
Back To Calendar
With special thanks to Ellen and Irv Hockaday
This event has
already taken place.
BEETHOVEN: String Quartet in C-sharp minor, op. 131
OCTAVIO VAZQUEZ: Piano Quintet (World Premiere)
Now celebrating their 47th anniversary, the American Quartet continues to entrance audiences with "precision, eloquence and subtlety." (GoMemphis.com) Composer and pianist Octavio Vazquez joins the quartet for a performance of his Piano Quintet. Vazquez was born in Santiago de Compostela in the Galicia region of Spain. He spontaneously started writing music at age 7, and not knowing how to notate, created his own system. At age 12 he became music director at St. Peter's church in Lugo. His artistic ethos is one of "emotional impact and direct communication with the listener," as well as expressing his Galician identity. His music has been described as "...a burning torch for the next century" by the New Music Connoisseur.
Beethoven's Op. 131 Quartet was the composer's favorite in the medium, and his most ambitious and experimental. He jokingly told his publisher that it was "patched together from pieces filched here and there." Schubert was overwhelmed by it, saying "After this, what is left for us to write?" This extraordinary work consisting of seven uninterrupted movements takes us through the widest of emotional landscapes: profound reflection, demonic humor, nostalgia, playfulness – all these and more are to be found here. Travel to two vastly different musical worlds traversed at the highest level of artistry by the American Quartet!
Performances will be 75 minutes and there will be no intermission. Please check the "Concert Protocols" page before attending for the most up-to-date protocols.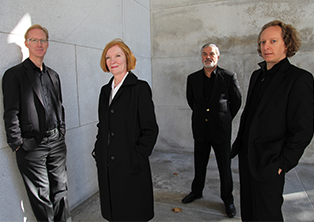 Featured Conductor & Artists