A Recital by the JCT Trio
Back To Calendar
With special thanks to Susan Beckerman
This event has
already taken place.
CONRAD TAO: Piano Trio No. 2
BEETHOVEN: Piano Trio in B-flat major, op. 97, "Archduke"
This program will be performed without intermission
They drew wild applause last July after their Harris Concert Hall debut, and shouts and bravos from Lincoln Chamber Music Series patrons in January. These electrifying artists of the next generation call themselves the JCT (said "Junction") Trio after their last initials. The poetry and purity of Stefan Jackiw, passion and intellect of Aspen alum Conrad Tao, and riveting intensity of Jay Campbell converge to create truly compelling performances. They approach both established and new works with the same curiosity and full-on commitment.
A new work by Tao opens the evening. Called a "thoughtful and mature composer" by NPR, 24 year-old Tao has won eight consecutive ASCAP Morton Gould Young Composer Awards and has received commissions from the Dallas Symphony Orchestra and the Chamber Orchestra of Philadelphia. Beethoven's crown jewel of trios, the noble, majestic and sometimes playful "Archduke" will bring the evening to a deeply satisfying close.
Enjoy an evening of musical freshness and breadth with the JCT Trio.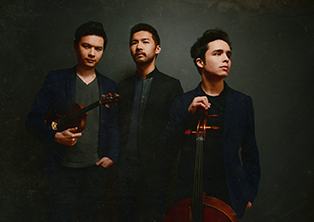 Featured Conductor & Artists