A Recital by the Pacifica Quartet
Back To Calendar
With special thanks to Jane and Bill Frazer
This event has
already taken place.
WALKER: Lyric for Strings
SHOSTAKOVICH: String Quartet No. 2 in A major, op. 68
---
BEETHOVEN: String Quartet in C major, op. 59, no. 3, "Razumovsky"
Known for their virtuosity, exuberant performance style, and often daring repertory choices, the Pacifica Quartet has been called "nothing short of phenomenal" by The Telegraph. Their Shostakovich cycle concerts at Wigmore Hall during the 2018–19 season were hailed as "brilliant," "astonishing," "gripping," and "breathtaking." They return to Harris Concert Hall for the Second String Quartet by Shostakovich, inspired by klezmer, or Jewish village wedding music. The first movement features the kind of melody which would welcome guests to the celebration, led by a solo violinist, then follows the style of music that would entertain the guests while waiting for the bride. The third movement evokes the custom of the violinist improvising in exchange for gifts of money, and the finale captures the ever-accelerating dance as the party really gets going.
From its searching opening to its euphoric conclusion, Beethoven's radiant String Quartet in C major, Opus 59, No. 3, will take you on a musical journey full of both contrasts and cohesion. One of three quartets dedicated to the Russian ambassador to Vienna, Count Razumovsky, it acquired the nickname "Eroica" because of its glorious, triumphant finale.
Also on the program is Pulitzer Prize-winning African-American composer George Walker's Lyric for Strings. Written in 1946, it's Walker's best known and most-performed work. He originally called it "Lament" and dedicated it to his grandmother who had died the previous year. Walker wrote Lyric as the middle movement of a string quartet that became so popular he later included it in a larger orchestral work. Hear one of the world's most dynamic string quartets in a program that is both contemplative and exhilarating.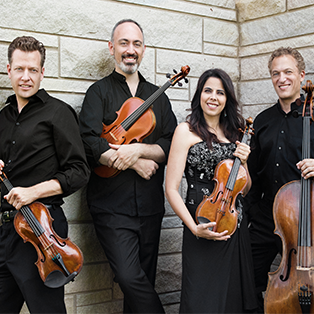 Featured Conductor & Artists