A Recital by the Pacifica Quartet
Back To Calendar
With special thanks to Barbara and Jon Lee
This event has
already taken place.
PRICE: String Quartet No. 1 in G major
MENDELSSOHN HENSEL: String Quartet in E-flat Major
PROKOFIEV: String Quartet No. 2 in F major, op. 92
Described as "nothing short of phenomenal" by The Telegraph, the Pacifica Quartet won the 2021 Grammy for Best Chamber Music/Small Ensemble Performance for "Contemporary Voices," a CD featuring works by women composers. This recital continues that exploration with works by Florence Price and Fanny Mendelssohn.
Price was the first African-American woman composer to have a large-scale work performed by a major orchestra when her symphony was played by the Chicago Symphony. Drawing from both European tradition and African American spirituals and folk tunes, Price's quartet may remind you of Dvorak and Tchaikovsky.
Unlike her famous brother Felix, Fanny Mendelssohn was never allowed to pursue a career as a composer, with the result that most of her writing consisted of small piano pieces and songs for the salon concerts she hosted with her painter husband. One of her few larger genre works was a single, highly original string quartet.
Prokofiev wrote his Second String Quartet after he and other prominent Soviet artists were evacuated from Moscow before the German army invaded in 1941. In the southern region of Kabardino-Balkar, he became captivated with the local music and folk instruments. He poured the exotic folksongs, dance rhythms, and harmonies of the area into the classical form of the string quartet. Thrill to the artistry and exuberance of the Pacifica Quartet!
Performances will be 75 minutes and there will be no intermission. Please check the "Concert Protocols" page before attending for the most up-to-date protocols.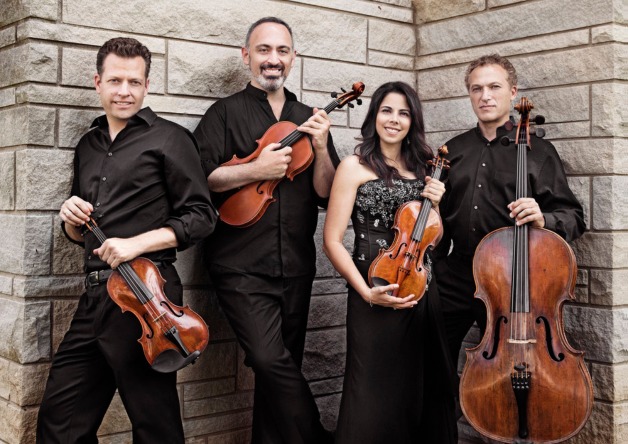 Featured Conductor & Artists