Aspen Chamber Symphony
Back To Calendar
With special thanks to Mona Look-Mazza and Tony Mazza, and Alexandra Munroe and Robert Rosenkranz
Please Note:
Tickets will remain in cart for 30 minutes.
Houston Symphony Orchestra Conductor Laureate Hans Graf conducts three Beethoven masterworks.
Praised by The New York Times for his "warm, fluid touch and poetic nuance," remarkable talent Martin Helmchen will play Beethoven's Fourth Piano Concerto. The work was radical for its time for its solo piano opening, and its sublime and mysterious second movement was compared with Orpheus taming the wild beasts.
Concluding the program is the beloved Sixth Symphony, only one of two that Beethoven intentionally named. The full title is Pastoral Symphony, or Recollections of Country Life. Reflected in this work are Beethoven's affinity for nature and his love for walks through the country outside of Vienna. He once wrote, "How delighted I will be to ramble for a while through the bushes, woods, under trees, through grass, and around rocks. No one can love the country as much as I do. For surely woods, trees, and rocks produce the echo that man desires to hear."
Also see Martin Helmchen in a trio recital with violinist Augustin Hadelich and cellist Marie-Elisabeth Hecker on August 9.
Program
BEETHOVEN: Coriolan Overture, op. 62
BEETHOVEN: Piano Concerto No. 4 in G major, op. 58
—
BEETHOVEN: Symphony No. 6 in F major, op. 68, "Pastoral"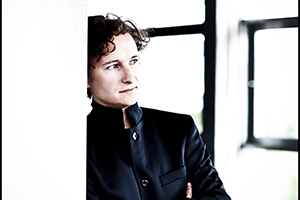 Featured Conductor & Artists
Please note: Tickets will remain on hold for 30 minutes.
Loading Seats...
Benedict Music Tent
Note: Tablet users may need to zoom in to seating chart to select seats.