Aspen Chamber Symphony
Back To Calendar
With special thanks to Janet and Tom O'Connor, and Dana and Gene Powell. Local business support provided by members of the Aspen Board of REALTORS
This event has
already taken place.
MOZART: Symphony No. 31 in D major, K. 297 (K. 300a), "Paris"
MOZART: Violin Concerto No. 5 in A major, K. 219
—
IBERT: Hommage à Mozart
BIZET: Symphony No. 1 in C major
Conductor Nicholas McGegan returns to the Aspen Music Festival and School for a delightful program that highlights the 2018 season's theme: Paris, City of Light.
Mozart wrote his Symphony No. 31, known as the "Paris" Symphony, in 1778, during a six-month stay in the French capital. The 22-year-old composer deferred to French scoring practices, which led him to use his largest orchestra yet and to feature clarinets in one of his symphonies for the first time. The work was a great success when it premiered, and one reviewer wrote that Mozart, "who from the tenderest age made a name for himself among harpsichord players, may today be ranked among the most able composers."
Three years before the premiere of the "Paris" Symphony, Mozart, at the age of 19, wrote his final violin concerto — the Violin Concerto No. 5 in A major — known as the "Turkish" Concerto. The delightful and lyrical piece, which scholars believe Mozart composed for his own performance purposes, stands out for its unusual tempos and changes in both meter and mood. The nickname "Turkish" comes from an "exotic"-sounding passage in the concerto's third and final movement. Ray Chen — whom The Washington Post said "can do pretty much anything he wants on the violin" — solos in this youthful yet highly sophisticated work.
The program's second half flows seamlessly from the first, kicking off with Ibert's fun and fast-paced Hommage à Mozart, composed in 1956 to celebrate the bicentennial of Mozart's birth, followed by Bizet's energetic Symphony No. 1 in C major. Written when Bizet was 17 years old and studying with Gounod at the Paris Conservatory, this four-movement work (which draws inspiration from both of Gounod's own symphonies) is believed to have been the result of a student assignment. The symphony — which seemingly held little interest for Bizet but is today considered a prodigious masterpiece — was never performed during the composer's short lifetime. It received its premiere in Basel, Switzerland, in February 1935, 60 years after Bizet's death.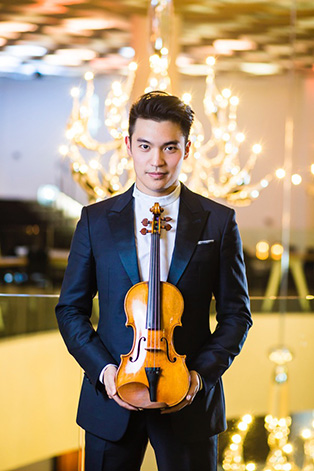 Featured Conductor & Artists