Aspen Conducting Academy Orchestra
Back To Calendar
With special thanks to Marcy and Leo Edelstein
Local business support provided by Carl's Pharmacy and Miners' Building Hardware
This event has
already taken place.
CARLOS SIMON Fate Now Conquers
GIPPS Oboe Concerto in D Minor
---
BEETHOVEN Symphony No. 3 in E-flat major, op. 55, "Eroica"
See the conducting stars of tomorrow in these engaging concerts where student conductors rotate between conducting a movement of a work, or playing in the orchestra. Program Director and AMFS Music Director Robert Spano observes the work of his students at this weekly event.
Since his heyday in the nineteenth century, Beethoven has influenced generations of composers. In Carlos Simon's Fate Now Conquers, the inspiration was this journal entry from his notebook, written in 1815:
Iliad. The Twenty-Second Book
But Fate now conquers; I am hers; and yet not she shall share In my renown; that life is left to every noble spirit
And that some great deed shall beget that all lives shall inherit.'
In Simon's words, "Using the beautifully fluid harmonic structure of the second movement of Beethoven's Seventh Symphony, I have composed musical gestures that are representative of the unpredictable ways of fate. Jolting stabs, coupled with an agitated groove with every persona. Frenzied arpeggios in the strings that morph into an ambiguous cloud of free-flowing running passages depict the uncertainty of life that hovers over us.
We know that Beethoven strived to overcome many obstacles in his life and documented his aspirations to prevail, despite his ailments. Whatever the specific reason for including this particularly profound passage from the Iliad, in the end, it seems that Beethoven relinquished [himself] to fate. Fate now conquers."
Following Simon's piece, the summer's Wind Competition winner will take center stage, followed by a performance of Beethoven's Third Symphony. With its revolutionary length, harmonic language, and emotional content, the "Eroica" was a landmark in the transition from the Classical to the Romantic era. Beethoven originally dedicated it to Napoleon with "Buonaparte" inscribed on the manuscript's title page, but when Napoleon declared himself emperor, Beethoven flew into a rage, exclaiming, "So he is no more than a common mortal! Now, too, he will tread underfoot all the rights of Man, indulge only his ambition; now he will think himself superior to all men, become a tyrant!" The page was recopied and the work renamed Sinfonia eroica.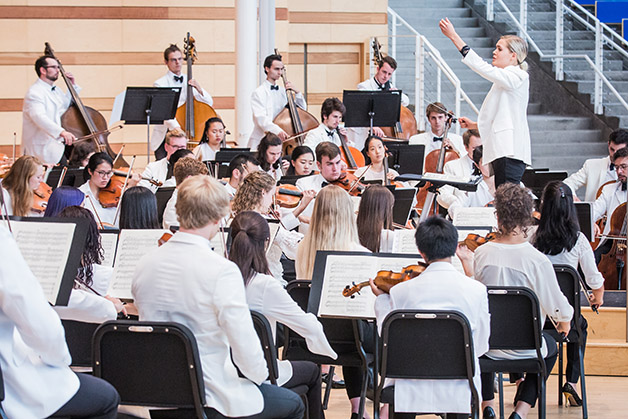 Featured Conductor & Artists