Festival Orchestra: Wagner's "Ring," Hadelich Plays Dennehy
Back To Calendar
With special thanks to Kay Bucksbaum and the John P. and Anne Welsh McNulty Foundation
This event has
already taken place.
DONNACHA DENNEHY: Violin Concerto (AMFS co-commission)
---
WAGNER/HENK DE VLIEGER: The Ring, an Orchestral Adventure
The Milwaukee Shepherd Express conjectured that he "well may be the best violinist in the world. [His] gorgeous sound is ample and rich always. Every detail is played with perfectly clear intent." Augustin Hadelich's astonishing technique, eloquent phrasing, and seeming effortlessness inspired Donnacha Dennehy to compose his first multi-movement concerto especially for him. In Dennehy's words, "The first movement especially zooms in and out of various perspectives. I think of this aerial zooming as being essential to its nature. The second movement feels redolent of the sea to me. The sea always emerges in my music it seems. Maybe it has to do with growing up in Ireland, surrounded by water on all sides. There is a real feeling of yearning to this movement. It was written during the first lockdown of the pandemic, and I feel that a kind of desire to transcend the conditions of everyday life permeates this movement. The final movement is more earthy and cheeky. A strange, splintered, fierce jig eventually appears, and then abstractions of that start to eat away at the very fabric of the music, when the violin threatens to spiral everything out of control leading to a fierce conclusion on the very edge of what is possible!"
Henk de Vlieger is a Dutch composer and percussionist who arranged the music of Richard Wagner into highly accessible concert suites, joining the best-known orchestral sections into nearly seamless outlines of the operas' high points. The Ring, an Orchestral Adventure, draws on the most famous music in the four-opera, 16-hour cycle, Der Ring des Nibelungen. All the greatest hits are here, including Entry of the Gods into Valhalla from Das Rheingold, Ride of the Valkyries and the Magic Fire Music from Die Walküre, Forest Murmurs and Brünnhilde's Awakening from Siegfried, and Siegfried's Rhine Journey and Siegfried's Funeral Music from Götterdämmerung. Whether you're a dedicated Wagnerite or a newcomer unfamiliar with the mythology and complex plot and characters of the Ring, the sheer brilliance and drama of these pivotal moments are sure to thrill you.
Experience the sublime artistry of Augustin Hadelich in a piece composed with him in mind, and some of the most spectacular orchestral music ever composed for the opera or concert stage!
Watch Hadelich teach young violinists at a Harris Concert Hall Class on Tuesday, July 18, or watch his recital in the evening of Tuesday, July 18.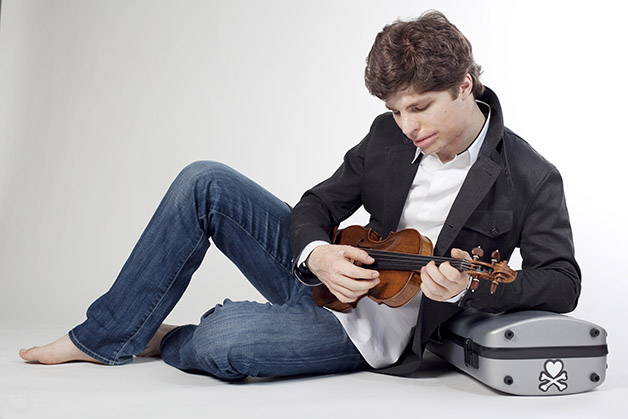 Featured Conductor & Artists