Aspen Festival Orchestra
Back To Calendar
With special thanks to the Stern Family Foundation, Part of the Allison and Warren Kanders Sunday Concert Series
Please Note:
Tickets will remain in cart for 30 minutes.
Good seats in sections 500 and 700 with slight view obstructions are available by calling the box office at 970-925-9042.
Superstar soprano and AMFS alumna Renée Fleming returns to Aspen to dazzle audiences with her talent and charisma. She will perform Michael Tilson Thomas's song settings of poetry of Emily Dickinson, which Tilson Thomas notes were written for and inspired by Fleming.
AMFS Music Director Robert Spano leads a program that also features a symphonic poem based on an Australian Aboriginal myth, wherein all humans are connected through "dreamtime ancestors," and the world premiere of a piano concerto by AMFS President and CEO Alan Fletcher written for and played by the brilliant Inon Barnatan.
The season theme of "enchantment" is well represented by Stravinsky's Suite from The Firebird ballet. The story tells of the journey of the hero Prince Ivan, who, while hunting in the forest, strays into the magical realm of the evil sorcerer Koschei. Ivan enlists the help of the Firebird to thwart Koschei's minions and break a spell that has bewitched thirteen princesses. Stravinsky's orchestral wizardry and explosive rhythms helped made the work an overwhelming success at its 1910 premiere, and a thrilling concert piece.
Also see Inon Barnatan in recital on August 2.
*Stravinsky's The Firebird Suite and Christopher Theofanidis's Dreamtime Ancestors are part of the season theme, "Enchantment."
Program
CHRISTOPHER THEOFANIDIS: Dreamtime Ancestors*
ALAN FLETCHER: Piano Concerto (World Premiere)
—
MICHAEL TILSON THOMAS: Selections from Poems of Emily Dickinson
BJÖRK/HANS EK: : Selected songs
STRAVINSKY: The Firebird Suite (1919)*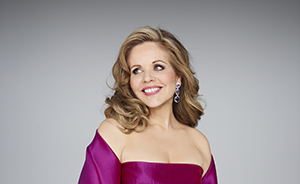 Featured Conductor & Artists
Please note: Tickets will remain on hold for 30 minutes.
Loading Seats...
Benedict Music Tent
Note: Tablet users may need to zoom in to seating chart to select seats.