Aspen Festival Orchestra
Back To Calendar
With special thanks to Edward P. Bass, Jane and Michael Eisner, The Eisner Foundation, and Leonard and Judy Lauder, The Allison and Warren Kanders Sunday Concert Series
Please Note:
Tickets will remain in cart for 30 minutes.
Aspen Conducting Academy alumnus and Lausanne Chamber Orchestra Director Joshua Weilerstein returns for an inspiring and varied program. Beethoven's Egmont Overture expresses musical righteousness, stemming from the composer's own political consciousness as he celebrates the heroic sacrifice of a sixteenth-century Dutch nobleman against oppression. An AMFS co-commission, the most recent symphony of former AMFS artist-faculty member Christopher Rouse is intended "to transport the listener through a series of emotional states, from turbulence to serenity." Concluding the program, Grammy-winner Augustin Hadelich plays Brahms's lyrical Violin Concerto in D major. A past performance was praised for its "luminous tone, magisterial technique, [and] sense that the music is sacred" (Seen and Heard International).
Also see Augustin Hadelich in a trio recital with cellist Marie-Elisabeth Hecker and pianist Martin Helmchen on August 9.
Program
BEETHOVEN: Overture to Egmont, op. 84
CHRISTOPHER ROUSE: Symphony No. 5
—
BRAHMS: Violin Concerto in D major, op. 77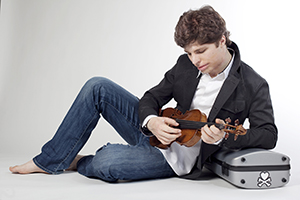 Featured Conductor & Artists
Please note: Tickets will remain on hold for 30 minutes.
Loading Seats...
Benedict Music Tent
Note: Tablet users may need to zoom in to seating chart to select seats.