Aspen Festival Orchestra
Back To Calendar
With special thanks to Nancy and Charles Wall, part of the Allison and Warren Kanders Sunday Concert Series
This event has
already taken place.
DEBUSSY: La damoiselle élue (The Blessed Damozel)
DANIIL TRIFONOV: Piano Concerto in E-flat minor
—
MUSORGSKY/RAVEL: Pictures at an Exhibition
Two years after mesmerizing audiences with a solo recital in AMFS's Harris Concert Hall, pianist Daniil Trifonov returns to the Festival to dazzle once again—this time as both a pianist and a composer. Trifonov performs his Piano Concerto in E-flat minor, which he premiered at the Cleveland Institute of Music in 2014, at the age of 23. The New York Times, following a recent performance at Carnegie Hall, called the concerto "unapologetically tonal" and described it as being full of "Romantic fervor and pulsing lyricism" as well as "stupefying challenges." The Times also noted that the work honors "the heritage of Russian composer-pianists, especially Skryabin, Rachmaninoff, and Prokofiev."
Before Trifonov takes to the stage, the concert opens with Debussy's cantata La damoiselle élue (The Blessed Damozel), which centers on a young woman who is in heaven but laments being separated from her lover, who is still on Earth. Debussy composed this cantata in 1889, when he was fascinated by Wagner, although the work's direct influence is the poem "The Blessed Damozel" by British pre-Raphaelite poet and painter Dante Gabriel Rossetti. (Rosetti also created a painting of the same name.) La damoiselle élue was a success when it premiered in Paris in 1893, with critic Pierre Lalo writing: "Such are the grace and delicacy of [Debussy's] taste that all his audacities are welcome."
Musorgsky wrote Pictures at an Exhibition as a 10-movement piano suite (with a recurring Promenade theme woven throughout) in June 1874. The suite was inspired by the work of Musorgsky's friend Viktor Hartmann, an artist, designer, and architect who had died the previous year at the age of 39. In early 1874, an exhibit was held in Hartmann's honor at the Imperial Academy of Arts in St. Petersburg, and that exhibit directly led to Musorgsky's composition. A number of composers have orchestrated Musorgsky's suite over the years, but the brilliant orchestration created by Ravel in 1922 is considered the gold standard.
Don't miss Daniil Trifonov's Special Event Recital on July 10.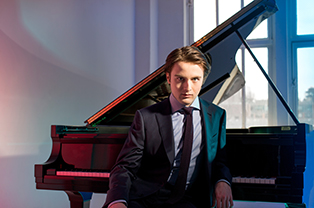 Featured Conductor & Artists