A Recital by Jennifer Koh, violin
Back To Calendar
This event has
already taken place.
Selections from Alone Together
WANG LU Hover and Recede
INTI FIGGIS-VIZUETA quiet city (& easter bells from the bowery)
RAJNA SWAMINATHAN Kindling
DU YUN Windowsills
TANIA LEÓN Anima
J. S. BACH Sonata No. 3 for Unaccompanied Violin in C major, BWV 1005
Selections from Alone Together
KATI AGÓCS Thirst and Quenching
THOMAS KOTCHEFF vacuum packed
SUGAR VENDIL Simple Tasks 2
VINCENT CALIANNO Ashliner
ANGÉLICA NEGRÓN Cooper and Emma
SARAH GIBSON You Are Still Here
SHAYNA DUNKELMAN Afterglow
CAROLINE DAVIS heart rituals
DAVID SERKIN LUDWIG All The Rage
For guidance and tips on how to view our events, click here.
---------
Recognized for commanding performances of repertoire from the traditional to the contemporary, violinist Jennifer Koh is not one to rest on her laurels.
When the world shut down in the spring of 2020, Koh set to work commissioning both established and emerging composers to write brief musical moments. She then performed these new works online in a ten-part mini-series entitled "Alone Together" that The New York Times dubbed an "ambitious and heartening standout" of quarantine. For her Aspen program, Koh has created a contemporary tableau of selections drawn from that series.
A noted interpreter of Bach, Koh also includes in her program with the Sonata No. 3 for Unaccompanied Violin in C major. In this notoriously difficult work, Bach's rich textures come together to create such a complete, full sound that it is hard to believe only one instrument is playing.
Time-honored and cutting-edge are seamlessly integrated in this addition to the 2021 Winter Music series!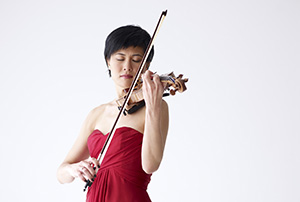 Featured Conductor & Artists