A Recital by Robert McDuffie, violin, and Robert Spano, piano
Back To Calendar
Please Note:
Virtual event.
Viewing information to be announced.
BRAHMS: Violin Sonata No. 1 in G major, op. 78
JOHN CORIGLIANO: from Violin Sonata
BEETHOVEN: Violin Sonata No. 7 in C minor, op. 30, no. 2
Friends and longtime musical partners, AMFS alumnus and internationally renowned violinist Robert McDuffie joins with AMFS Music Director Robert Spano on piano for a program rich in the classical music tradition.
This perennially popular Aspen pair opens their program with Brahms's lyrical, radiant First Violin Sonata, which was written in the same period as his Violin Concerto and reflects his mastery of the instrument. Combining tenderness with the full force of Brahms's compositional maturity, the piece so moved Clara Schumann when she first played it, that she "could not help bursting into tears of joy."
Originally titled "Duo" in acknowledgment of the equal musical partnership of violin and piano, John Corigliano's award-winning Violin Sonata exudes optimism, energy, and virtuosity.
The program concludes with Beethoven's much-loved Seventh Violin Sonata in C minor--a work of power, drama, and grand scale. The key of C minor, significant to Beethoven, bears an emotional depth and stormy intensity that some say embodies the heroic struggle.
As we navigate these uncertain times, don't miss this program of inspiring, healing, connective music offered to nourish and refresh our spirits.
---

Also this winter, the AMFS presents:
- A Recital by Tengku Irfan, piano, on February 18
- A Recital by the Calder Quartet, on February 25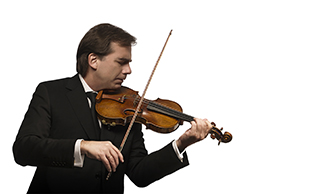 Featured Conductor & Artists